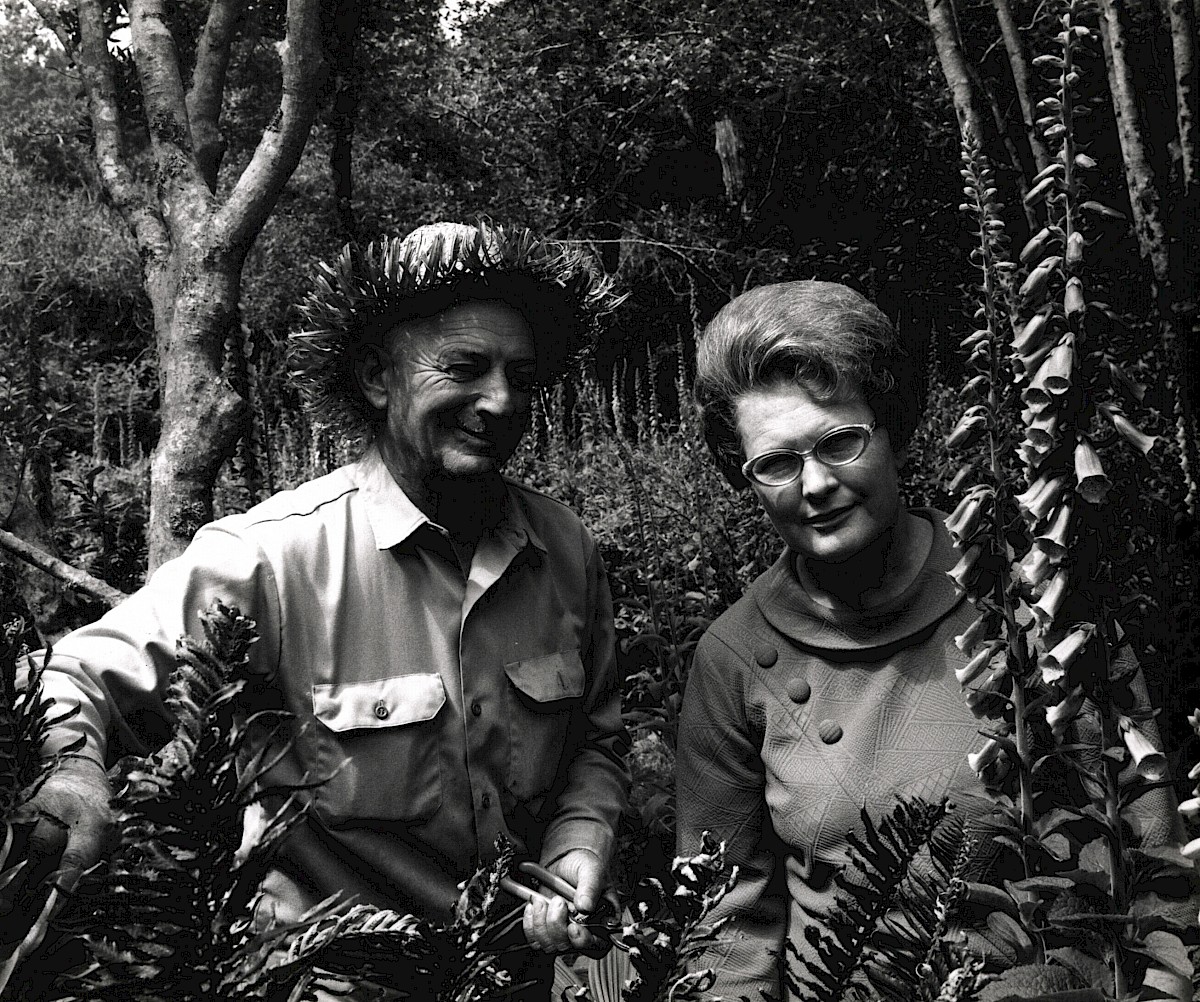 About the Mendocino Coast Botanical Gardens
Each year, more than 100,000 people experience the wonder of nature at Mendocino Coast Botanical Gardens in all its seasons. This nonprofit botanical escape is a place to play, to contemplate, to learn, to relax, to touch, to smell, to feel, to enjoy, to be inspired, and to experience the simple joy and beauty of life.
The Gardens was founded in 1961 by retired nurseryman Ernest Schoefer and his wife, Betty. Ernest's keen eye spotted the ample supply of water augmented by the mild coastal climate and quality soil essential to acid-loving plants like Rhododendrons. The Grand Opening of the Gardens was in 1966. By 1992, the Gardens' property had been purchased with grants from the California Coastal Conservancy and transferred to the Mendocino Coast Recreation and Park District (MCRPD). The property and the botanical gardens have since been under the care of Mendocino Coast Botanical Gardens Corporation, a nonprofit 501(c)(3) membership organization.
The Gardens is known for its tender species Rhododendrons that produce some of the most fragrant blossoms of the year. Native to the cloud forests of Southeast Asia and the Himalayas, these gems are by their growing requirements to a narrow band along the northern California coast in the U.S., where they thrive in the foggy, coastal climate.
In March and April, hybrid rhododendrons tower overhead, dropping petals on the trails below. These old-time hybrids, planted over 40 years ago, are hard to find in nurseries today. Yet hybrids such as 'Cynthia' with its pink trusses continue to elicit enthusiastic responses from visitors. A special group is our Fort Bragg Collection, comprised of rhododendrons hybridized in Fort Bragg. Some, such as 'Noyo Chief,' the official flower of Fort Bragg, have become popular in the nursery trade.
The Perennial Garden is a delight with bulbs, flowers and grasses blooming from spring to fall. Visitors are often surprised that a mild and sometimes foggy climate can accommodate cactus and succulents, yet many grow well here.
The collection of Heaths and Heathers is a national treasure as are the species camellias. Equally, if not more important, the natural areas of the garden harbor six different rare and endangered plants. A wonderfully weird forest of pines leads to the breezy bluff of the coastal prairies and views of the Pacific Ocean in all of its moods.
The Gardens has become a haven for bird watchers with the list of bird species now at more than 180. It's rare to spot a red-throated loon or double-crested cormorant in spring, but in summer they are common, as are the black oystercatcher, which frequents the rocky coastline year-round. Ospreys, hawks, sandpipers, plovers, swallows, and Canada geese are also regulars. If you're vigilant and look carefully, on very rare occasions you might even spot an ash-throated flycatcher, a Savannah sparrow, a Pileated woodpecker, or a red-breasted nuthatch.
---
As a nonprofit botanical garden, our mission is to engage and enrich lives by displaying and conserving plants in harmony with our Northern California coastal ecosystems and to preserve public access to the coast. 
Our Vision
To be a treasured resource that inspires joy and learning through our exquisite gardens and important collections, restored natural environment, and unique cultural history.
To provide superior plant selections and excellent design in display and demonstration gardens while protecting native plants and wildlife habitat in conservation areas.
Our Values
Community:  We will be a resource for inspiration, learning, and recreation for our local and extended communities.
Relationships:  We respect and value all members of the Gardens community—visitors, staff, volunteers, members, and contributors.
Conservation:  We will protect the plants, the natural environment, and the cultural history of the land we occupy.
Excellence: We will strive for the highest professional standards in everything we do.
Fiscal Stewardship:  It is our responsibility to ensure the fiscal health of the Gardens.
Integrity:  We will conduct all activities in an open, ethical, and inclusive manner.
Sustainability:  We will manage the resources of the Gardens in an environmentally responsible manner. 
Interested in re-reading some of our e-newsletters and articles from the past? Each "Bloom Blast" is chock-full of information about the Gardens, our glorious collections, what is in bloom, upcoming events, educational opportunities, and more...

Fill your days with beauty as we continue to post images of blooms and scenes from our 47 acre garden by the sea on the MCBG YouTube channel, MCBG Facebook, and Instagram feeds.

Send us your favorite pictures from around the Gardens. Send photos from your visit to Mendocino Coast Botanical Gardens. Share your best photos of beautiful botanicals, ocean views, friends, family, pups, or other "Kodak moments" and you may find your works featured on the MCBG website or Facebook page. Send to high resolution images, a brief description, and let us know who to credit: marketing@gardenbythesea.org.

Mendocino Coast Botanical Gardens mission is to engage and enrich lives by displaying and conserving plants in harmony with our Northern California coastal ecosystems.

A biennial exhibition of sculptures at Mendocino Coast Botanical Gardens is made possible with the help of the Arts Council of Mendocino County.

More than 187 species of birds can be seen at Mendocino Coast Botanical Gardens throughout the year, including resident and migratory species.

Now hiring! The operations and programs of the Gardens are accomplished through the teamwork of our dedicated staff and volunteers. Join us in cultivating this botanical wonder for all to enjoy!

The Board of Directors for the Mendocino Coast Botanical Gardens meets on the second Wednesday of each month at 4:00 p.m. in the Gardens' Education Center.

Mendocino Coast Botanical Gardens welcomes media inquiries, whether from freelance journalists, travel writers, home and garden writers, or bloggers. We welcome promotion venues from print, video, blog, and other online social media sites to spread the word. Writing about our not-for-profit garden also helps promote our mission to "engage and enrich lives."