Coastal Bluff and Marine Zone
Typical bloom time: March through June
Please stay on trails and stay back from the bluffs edge!
Just past The Cliff House and along the edges of the coastal bluff are plants adapted to poor, rocky soils and salt-laden winds. They are tough, often low-growing plants that have adapted to the windswept, sometimes fog-bound climate. Spring visitors may see California poppy (Eschscholzia californica), angelica (Angelica hendersonii), live-forever (Dudleya farinosa), seaside wooly sunflower (Eriophyllum staechadifolium), seaside daisy (Erigeron glaucus), sea thritft (armeria maritima), and goldfields (lasthenia californica). This environment is fragile and we have taken steps to route bluff-accessible paths that avoid the richest concentrations of our native wildflowers and that help control erosion.
The coastal grasslands or prairies were once the most species-rich grassland types in North America. Most have been lost to urbanization and agriculture. The Gardens' coastal grasslands were once used to grow potatoes and other crops. Restoration of the grasslands is under way, we are managing the exotic and invasive grasses to protect the local, coastal grassland species such as tufted hairgrass (Deschampsia caespitosa), Douglas iris (Iris douglasiana), California blue-eyed grass (Sisyrinchium bellum), lupine (Lupinus variicolor), and footsteps-of-spring (Sanicula arctopoides). Please stay on designated trails in this delicate area, we appreciate your mindful enjoyment of our native coastal grasslands.
Intertidal Marine Zone
The coast of northern California is one of the richest marine environments in the world, with what is called a high energy intertidal ecosystem. Cold, nutrient rich water from deep canyons off the coast is brought to the surface by northwesterly winds in spring. This rich combination powers the growth of seaweed and its associated ecology.
There are annual and perennial seaweeds visible from our coastal bluff. A number of these are edible and highly nutritious. One of the most visible is the sea palm (Postelsia palmaeformis), which looks like a small, rubbery palm tree. Although it is illegal to harvest sea palm for recreational use, it is an important part of the commercial harvest of edible seaweed (license required).
Bull kelp (Nereocystis luetkeana) can also be seen growing in large masses off the coast. The large forests of this kelp create a rich habitat for a great diversity of sea life.
---
The California Coastal National Monument (CCNM) is located along the entire coastline of California. It is among the most viewed but the least recognized of any of the Nation's national monuments. The Monument consists of a network of more than 20,000 small islands, rocks, exposed reefs, and pinnacles that provide a haven for animals and plants along the 1,100 miles of the California coast. Mendocino Coast Botanical Gardens has a great view of the Monument from our headlands!
---
WHALE WATCHING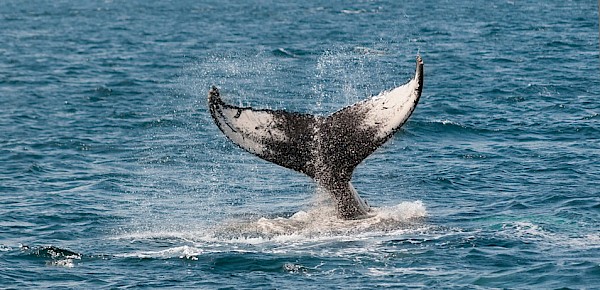 California Gray Whales: November - May
From November to February, the California Gray Whales can be seen migrating south to Baja. There, the pregnant females give birth. Starting in February and March, the whales migrate back north to Alaska with their newborn calves.
Humpback Whales: April - November
Humpback Whales spend most of their time further offshore than the Gray Whale but can be seen fluking, spy-hopping, and breaching!
Blue Whales: June - October
Occasionally seen from the shore in summer and early fall, these gentle giants produce a tall spout.
 Orcas (Killer Whales): In recent years, these beautiful predators have been spotted off the Mendocino Coast. Unlike other whales, Orcas are not considered to be predictable migrants.
Visit the Noyo Marine Science Center for more information on marine mammals off the Mendocino Coast!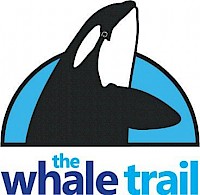 DID YOU KNOW? The Gardens was one of the first locations on the Mendocino Coast to be added to The Whale Trail! The Whale Trail is a series of sites where the public may view marine mammals from shore. Founded in 2008, the project has expanded from it's roots in Washington to include locations in Oregon, British Columbia, and most recently—the California coastline. 
How to spot whales from the shore – CLICK HERE for some helpful hints from The Whale Trail