Bird Watching with Mendocino Coast Audubon Society
More than 180 species of birds live in or visit the Gardens each year. Join the experts from our local Mendocino Coast chapter of the Audubon Society and learn more about our avian friends. Walks start at the Gardens entrance.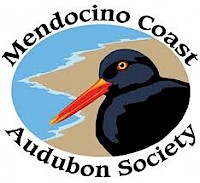 Monthly walks are as follows:
Beginning Birding: 1st Saturday, 9:00 am

Early Bird Walk: 3rd Wednesday, 8:00 am  (April through October)
Early Bird Walk: 3rd Wednesday, 8:30 am  (November through March)
Check the Audubon Society's calendar for updates and cancellations. Please note, walks will be canceled in the event of heavy rain. 

Follow the Mendocino Coast Audubon Society on Facebook for updates on Bird Walks, Bird Counts, and more...
Payment Information: Walks are free with regular Gardens admission and just plain free for MCBG members!
Contact Email: audubon@mcn.org