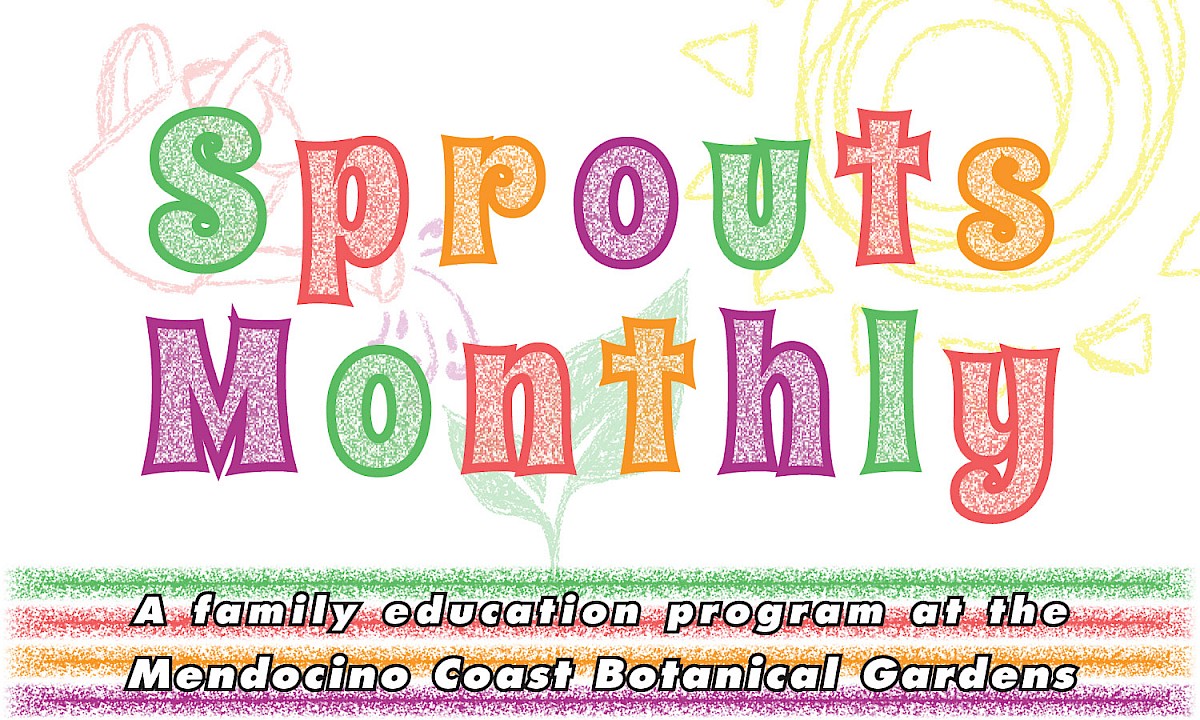 Sprouts Program
About Sprouts
Mendocino Coast Botanical Gardens is offering a new way to get outside and learn with monthly self-guided activities for kids and parents to do together. Activities include colors and adaptations in nature, birdwatching, nature therapy, whale watching, pulley systems, getting to know trees, and more. All activities will be available in English and Spanish.
Sobre Sprouts-Retoños
El Jardín Botánico de la Costa de Mendocino está ofreciendo una nueva manera de estar afuera y aprender con actividades auto-guiadas mensuales para que los niños y los padres las hagan juntos. Actividades incluyen colores y adaptaciones en naturaleza, avistamiento de pájaros, terapia en la naturaleza, sistemas de poleas, conozca los árboles, y mucho más. Todas las actividades estarán disponibles en inglés y en español.
Keep an eye out for FREE Sprouts Tickets that the Gardens will be donating through local schools and nonprofits! 
Without Sprouts Tickets, regular admission applies:
FREE — Members of the Gardens enjoy free admission (become a member)
$10.00 — Coast Resident (MCRPD district - Gualala to Westport)
$8.00 — Juniors (aged 6 to 14)
FREE — Children (aged 5 and under)
$12.00 — Seniors (65 and older)
$15.00 — General Admission (15 and older)
---
This Month's activity handouts
SEPTEMBER and OCTOBER 2022: Nature Breathing (all ages)  English — Spanish
Past activities and handouts for self-guided exploration
Colors in Nature (Kindergarten & 1st Grade) English — Spanish
Winter Birdwatching (Third Grade) English — Spanish
Pacific Coast Tree ID (Fifth Grade) English — Spanish
Pollinator Observation (2nd Grade – 8th grade) English — Spanish
---

Sprouts Program Sponsors
Thank you for helping to make this educational opportunity available for all!
Adventist Health Mendocino Coast
DeLucia Family Fund of The Community Foundation of Mendocino County
Linda and Paul Dutcher
Kay and Bruce Leaman
Kate Erickson LPL Financial
Liz O'Hara and Steve Lane
Savings Bank of Mendocino County
Soroptimist International of Fort Bragg
Marilynn Thorpe 
---
Additional Self-Guided Educational Activities at MCBG
Birdwatching Resources – There are more than 187 species of birds that can be seen at the Gardens throughout the year. The Gardens offers a range of habitats for breeding, nesting and feeding. Visit our Photo Gallery to see photos of many of our birds. Download a checklist of birds found at our garden by the sea!
Educational Videos – Take a virtual tour of the Mendocino Coast Botanical Gardens and learn something new. Visit the MCBG YouTube Channel!
The Quail Trail Guide – Follow Quincy the Quail on a journey through the special and sometimes hidden places in the Mendocino Coast Botanical Gardens. This colorful guide is available at the Gardens' entrance, or you can print the guide prior to your visit. Listen for the call of Quincy the Quail, "Chi-Ca-G0, Chi-Ca-G0" and to follow Quincy through the Gardens. Numbered black quail markers are in place to help families and school groups find the 15 special places identified on the guide. The Quail Trail guide was originally developed and funded in 2008 by longtime MCBG volunteer Ruth Sparks—Master Gardener and former kindergarten teacher who has eleven grandchildren. Ruth and Joe Sparks sponsored an update of the guide and badly rusted trail markers for it's 10-year anniversary. Follow Quincy the Quail and discover the many nooks and crannies of our garden by the sea. The Quail Trail will provide a unique view of the Gardens as seen through a child's eyes. Download The Quail Trail Guide!
Sculpture Exhibit Guide – Mendocino Coast Botanical Gardens partners with the Arts Council of Mendocino County to present this biennial exhibition of sculptures placed throughout the Gardens. We have nearly finished installing the 2020-2022 exhibit... search for new art amongst the blooms on your next visit!