Yoga at the Gardens
Mindful Yoga with Delphine Davidson
Sundays at 12:00pm on the Event Lawn
at the Mendocino Coast Botanical Gardens
Beginning Sunday, May 16 you can join certified yoga instructor, Delphine Davidson, for Mindful Yoga encircled by towering cypress and the melodies of nature... birds, bees, and the mighty ocean.
All levels are welcomed in this class, which combines Delphine's in-depth knowledge of safe alignment with dynamic movement. Mindful Yoga combines creative sequencing with Delphine's love of classical yoga. You'll find restorative moments and snapshots of sculpting intensity. This class aims to support you in slowing down, tuning into your intuition, cultivating physical health and psychological well-being using postures (asanas) and breathing techniques (pranayama) with the goal of developing a grounded, focused, and peaceful mind.
Registration:
Advanced registration is required! You must register for the class and pay for admission tickets before arriving at the Gardens. Registration for this workshop may be completed online. Payment is due upon sign-up. Please note, all class fees are non-refundable unless the class has been canceled or rescheduled by the Gardens. 
Class Cost:
Regular Gardens admission PLUS the program fee — $15 per participant. 
MCBG Members pay ONLY the program fee — $15 per participant. Please be prepared to present your membership card to our admissions staff upon entry. Become a Member and use your benefits immediately!
All levels welcome. Please bring your own mat and drinking water. Plan to arrive at the Gardens' entrance by 11:45AM to allow plenty of time to reach the Event Lawn, the class will begin promptly at noon.
---
About the instructor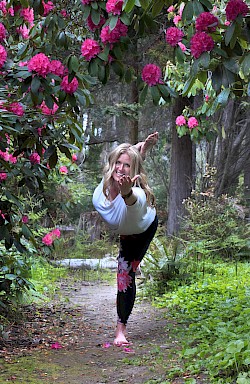 Delphine has been teaching yoga since 2002 throughout the country. She focuses on the deliberate deconstruction of each pose to make a mindful and lively practice available to students of all levels. You will be invited to go deeper into your individual practice along with consistent gentle reminders to follow the breath and the bodies' natural flow and the truth of a healing path. In her class, you will find words of encouragement and you will notice her true passion for moving beyond entanglement, obstacles and for finding that delicate balance between effort and effortlessness by listening deeply to one's overarching truth. Delphine's Yoga isn't about pushing or striving, it is an experience that encourages the process of empowering individuals by increasing self-awareness and learning how to work within one's own strengths and limitations.
Overview
Start Date: Sunday, May 16, 2021
End Date: Sunday, July 25, 2021
Schedule Details: Yoga will be available each Sunday beginning promptly at 12:00PM. You must register for the class and pay for admission tickets before arriving at the Gardens.
Location: MCBG Event Lawn
Instructor: Delphine Davidson
Payment Information: $15 per participant plus regular Gardens admission — Advanced registration is required!