Rhododendron Collection
Typical bloom time: December through June
Like many public gardens, the Mendocino Coast Botanical Gardens has been built through the devotion and hard work of people who love plants and gardens. The Gardens has been particularly fortunate in having so many outstanding Rhododendron enthusiasts and experts to help guide the development of the collection. The MCBG collection includes over 124 species of rhododendrons and 315 taxa, many of them developed by the region's prolific, enthusiastic, and generous rhododendron growers. More than 1,000 rhododendrons can be seen blooming throughout the Gardens during peak bloom in April and May.
Tender Species and Big-Leaf Rhododendron Collection
Beginning in 1994, local Rhododendron enthusiast and volunteer Peter Schick donated a major collection of tender species rhododendrons to the Gardens. Unlike the more familiar Rhododendron hybrid, tender species are known for their intoxicating fragrance. Mr. Schick also donated his collection of big-leaf Rhododendrons. With leaves up to 25 inches in length, these exotic plants stand out along Fern Canyon Creek. Our collection represents many species that are endangered and some that are extinct in their native habitats.
Tender species rhododendrons are found between 25- and 35-degrees latitude at elevations between 4,000 and 9,000 feet in their native habitats in Burma, China, and Tibet. In North America, only a narrow strip from Santa Cruz, California to Brookings, Oregon is suitable habitat for these plants. Mendocino Coast Botanical Gardens is close to the center of the optimal zone—the southern part of this strip is limited by low rainfall and restricted groundwater, while the northern section is limited by periodic extremes of cold. Our lack of summer rain is offset by our coastal fog and by the availability of irrigation water from Fern Canyon Creek.
Fort Bragg Rhododendron Collection
Planted near the marsh is the Fort Bragg Rhododendron Collection. The collection is dedicated to John S. Druecker—plantsman, nurseryman, and hybridizer—and features Rhododendrons that were hybridized or selected here on the Mendocino Coast or are named after local places. Many of these hybrids were developed in the region by now well-known breeders, including Paul Bowman, John Druecker, Pauline Newberry, Bud Richards, Gene German, Jim Drewry, and Eleanor Philp. All of the new plants for this garden were donated from private collections and local nurseries. Len Charvet, Bob Boddy (Descanso Nursery in Fort Bragg), Celeri & Son, and Forest Lane Nursery each donated hundreds of Rhododendrons to MCBG.
Rhododendron Cultivar Collection
From the Perennial Garden to the Event Lawn area, the Gardens is home to hundreds of rhododendron cultivars. While some are newer introductions, many of the older cultivars are no longer found in nurseries. Many were planted by Ernie Schoefer, and were donated by local Rhododendron nurseries. Mature plants reach towering heights and create a magical riot of color that peaks in May.
History of the collection: Mendocino Coast Botanical Gardens: A Tribute to Rhododendron Lovers, Nancy Morin
---
Alleyway Art Project
We are excited to be a part of this project spreading beauty throughout Fort Bragg, California.  The Alleyway Art Project, Flockworks, and the Mendocino Coast Botanical Gardens make a great team! CLICK HERE for more details on the first creation by the talented artist known as Ferric Decay. The imagery for this mural started with the artist taking an inspirational trip to the Botanical Gardens and snapping a photo of the showstopping Rhododendron 'Pink Delight'.
About the Project
The Alleyway Art Project works with a local business and nonprofit organizations (such as the Gardens) to co-sponsor each installation. The Alleyway Art Project is made possible by community participation. All of the artists are local. Property owners in the downtown the Fort Bragg area donate wall space to host art.
---
Azalea or Rhododendron?
A common question in the spring is what's the difference between a rhododendron and an azalea? All azaleas are rhododendrons, but not all rhododendrons are azaleas. All azaleas are in the genus Rhododendron, which are in the Ericaceae or Heath family, but azaleas belong to different subgenera such as Pentanthera (deciduous azaleas) and Tsustusti (mostly evergreen azaleas). All azalea flowers have five lobes while most, but not all rhododendrons, have a larger number. Azaleas usually have one stamen for each lobe, making five stamens. Other rhododendrons have two or more for each lobe, ten or more for each flower. Azaleas tend to have hairs that grow parallel to the surface of the leaf (called appressed hairs). Rhododendrons have hair, called indumentum. The hair, when it does exist, may be long, short, thick, thin, matted or upright. Some rhododendrons have scales and are known as Lepidotes. Scales are minute disc-like dots that occur on many parts of the plant. If no scales exist, it is an Elepidote. All azaleas are Elepidotes, bearing no scales. Azaleas have tubular-funnel or funnel-shaped flowers while other rhododendrons are more varied in the flower shapes and sizes. Besides the above, flower shapes may besaucer, bowl, funnel-like broadly campanulate, tubular, rotate or ventricose (swollen, inflated or distended). Deciduous azaleas lose all their leaves in winter, while true rhododendrons are evergreen, and are genetically different enough from the evergreen types that they rarely crossbreed.
---
Join your local chapter of the American Rhododendron Society!
Share your passion for rhododendrons and join the Noyo Chapter of the American Rhododendron Society (follow Noyo ARS on Facebook) in helping to promote the study and culture of rhododendrons and to stimulate interest in rhododendrons. Our locale is also of utmost importance in preserving the rhododendron species. Although these plants grow in few places worldwide, they thrive in the favorable climate of the Mendocino Coast. The area spanning Eureka to Fort Bragg is the largest production center of hybrid rhododendrons in California!
Join as a member of the Society to learn more about these gorgeous plants and receive discounts on healthy rhododendrons, azaleas, and more to add to your collection. Want a new social crowd? Attend the meetings and help plan the annual John Druecker Memorial Rhododendron Show.
Piqued your interest? Please contact the Membership Director, Fran Steinhart to become a member today!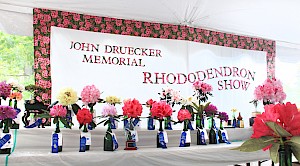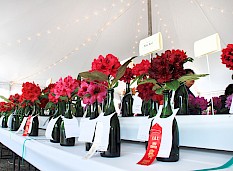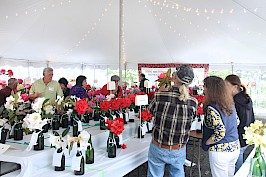 Be sure to join us for CALIFORNIA'S LARGEST RHODODENDRON SHOW held right here at the Gardens each spring!
For more information on rhododendrons and azaleas, visit the American Rhododendron Society at www.rhododendron.org, or contact our local Rhododendron Society Chapter.
There are more than 1,000 species of Rhododendrons found in the world, plus thousands of cultivated varieties. Rhododendrons fill the towns and forests on the Mendocino Coast with color from January to June. At the Mendocino Coast Botanical Gardens, you can find exotic and rare species as well as cultivars of many sizes, shapes, and hues along winding forested trails. The town of Fort Bragg is teaming with Rhododendron enthusiasts whose gardens show off personal collections and locally-bred varieties. You can even spot them blooming along the highways. Around here, you may find that people affectionately refer to their "rhodies" as if they are rare jewels, and some of them really are that precious.

Noticed something new blooming in the city of Fort Bragg lately? The Alleyway Art Project's first creation is the result of a partnership between Flockworks, artist Jacob Hewko (also know as Ferric Decay), and the Mendocino Coast Botanical Gardens. The imagery for this mural started with the artist taking an inspirational trip to the Botanical Gardens and snapping a photo of the showstopping Rhododendron 'Pink Delight'.