Giving to the Gardens
Our mission is to engage and enrich lives by displaying and conserving plants in harmony with our Northern California coastal ecosystems and to preserve public access to the coast.
As a non-profit organization, our goal is to provide a setting for plants and visitors to thrive. We do this through conservation, education, and inspiration. 
How You Can Make a Difference
We have many opportunities for you to join us in our mission and help to support ongoing improvements and restoration. Here are a few options:
Mendocino Coast Botanical Gardens is is a 501(c)(3) non-profit organization, tax ID 94-2800886. All contributions are tax-deductible to the full extent allowed by the law. Please phone 707-964-4352 ext 10 for more information.
---
Qualified Charitable Distribution
Looking for ways to reduce your taxes through charitable giving, but finding your traditional charitable contributions are no longer deductible as of 2018? A Qualified Charitable Distribution (QCD) allows IRA owners over the age of 70 ½ to transfer part or all of their annual Required Minimum Distribution (RMD) directly to a qualified charity such as the Mendocino Coast Botanical Gardens. Click here for more details.
---
GRATITUDE FROM THE GARDENS 
Community Foundation of Mendocino County

The Community Foundation of Mendocino County (CFMC) is a county-wide nonprofit organization that administers permanent charitable funds established through gifts and bequests from individuals, families, businesses, and other organizations. CMFC provides a number of funding opportunities that have helped improve all aspects of the Mendocino Coast Botanical Gardens. Most recently grants awarded by the Community Foundation has provided funding for picnic benches, operating expenses, trail improvements, technology to help us adjust our educational opportunities to a virtual platform, and an upgrade to our admissions and membership programs. CMFC also funded a portion of our Sprouts Educational Program through the support of DeLucia Family Fund. MCBG wants to thank the Community Foundation of Mendocino County's staff and dedicated board of directors for your continued support!
Community Foundation of Mendocino County and the Bishoff Foundation
For many, the Gardens seems to have shifted from a walk-through loop to a fresh air space for life's activities — a place to gather, meditate, read, create, learn, and exercise. Thanks to support from the Community Foundation of Mendocino County's Jack T. and Chatter C. Bishoff Capital Fund, we were able to improve and increase the Gardens' outdoor gathering areas with a slew of shiny new picnic tables.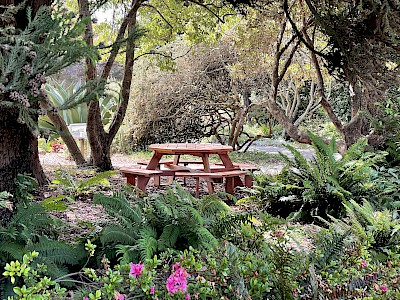 With grant funding, our staff and volunteers built six picnic tables, one of which is ADA-accessible. We also commissioned one artful picnic table that was designed and built by a local craftsman. You will notice this stunning octagonal table located on the outskirts of the Perennial Garden (pictured above).

The goal of this project was to diversify our outdoor seating and gathering areas to accommodate more people and create new accessibility to these areas. Sitting outdoors in a beautiful setting for even a moment has significant positive impacts on human health. We invite you to spend even more time in nature and nurture a deeper connection to the Gardens and the great outdoors.
In addition, the Gardens receives an annual gift from the Jack T. and Chatter C. Bishoff Fund in the form of a "designated fund" established within The Community Foundation of Mendocino County. In recent years, the funding has been used to purchase of mulch and newly planted specimens in the Heath & Heather Collection and Entry Garden. Funds were also used toward the purchase of new donor management software and for improvements to our front entry, gift shop, and admissions counter.
Stanley Smith Horticultural Trust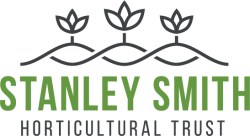 Thanks to funding from the Stanley Smith Horticultural Trust, the North Forest portion of the MCBG Conifer Collection is receiving extra attention with new trails, a new bridge, and more conifers!
The Heath and Heather Collection Improvement Project is also funded by the Trust. This project will assist in the preservation and development of MCBG's Heath and Heather Collection, which includes 125 live takes of Erica, Daboecia, and Calluna. The Mendocino Coast Botanical Gardens is committed to maintaining the nationally recognized collection so that it may be available for research, reference, and public enjoyment. This year we will install new plants, update signage, and improve trail accessibility for all in this section of the Gardens.
You may have noticed a vibrant n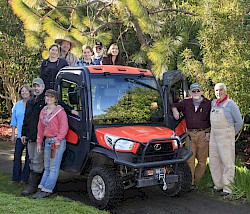 ew addition, roaming the Gardens... The Kubota UTV is a narrow four-wheel-drive utility vehicle with a 4,000-pound capacity winch, and a large cargo bed featuring a hydraulic bed lift. The Kubota UTV offers exceptional maneuverability for safe and efficient hauling of garden materials. The acquisition of this new equipment was made possible by a grant from the Stanley Smith Horticultural Trust and funds provided by Friends of the Gardens. THANK YOU!!!!
William and Inez Mabie Family Foundation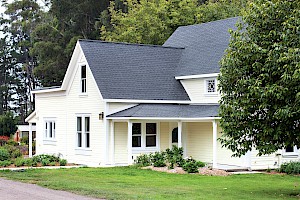 You may have noticed some commotion around the historic farmhouse at the east edge of our Vegetable Garden. Funding from the William and Inez Mabie Family Foundation allowed us to repurpose the farmhouse into an education center. Plenty of work was required to renovate the 100+-year-old building, including work on the foundation, floors, windows, and stairs. Walls were removed to create a large meeting space and the first floor is now ADA-accessible. We thank the William and Inez Mabie Family Foundation for supporting the Gardens and encouraging us to increase our educational offerings to the community.
The Education Center is being used for workshops, lectures, and events. Be sure to join us for one of the upcoming educational happenings in the newly refurbished 1890's farmhouse. The William and Inez Mabie Family Foundation is dedicated to providing philanthropic support to worthy causes, primarily in the areas of education and medicine.
American Rhododendron Society
Thanks to funding f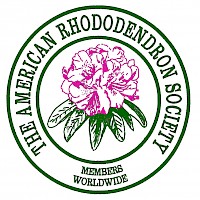 rom the American Rhododendron Society, we will be improving our facilities used to propagate rhododendrons. The improvements will allow the Mendocino Coast Botanical Garden to preserve and enhance our Rhododendron Collection by propagating from our own unique specimens, helping us maintain and share our collection with our guests. All rhododendrons that are not needed for planting in the Gardens are made available to the public in the retail nursery, providing everyone with the opportunity to purchase locally propagated rhododendrons.