Dahlia Garden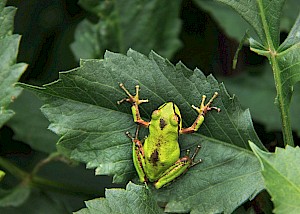 Typical bloom time: June through October – Peak in August and September
Dahlias were one of the first flowers that Gardens' founder Ernest Schoefer planted. At the time they were located in what is now the Perennial Garden. In the early 1980s, they were eventually moved to their current location on the South trail just past the Vegetable Garden.
The Dahlia Garden is one of the most favored locations at Mendocino Coast Botanical Gardens. The Gardens' collection of dahlias consists of more than 400 individual plants representing 150 varieties. The riotous blooms of mid- to late-summer provide an exquisite palette for artists and a glorious backdrop for weddings. 
Dahlias are a tuberous, shrubby plant and are used both as a display garden at MCBG, and around the perimeter of the Vegetable Garden, because they are deer resistant.
Dahlias are named for the Swedish botanist Andreas Dahl and are members of the plant family Asteraceae. They were first discovered in Mexico and are endemic to Central and South America. The Aztec Herbal Manuscript indicates that the dahlia plant was used in the treatment of urinary disorders and epilepsy. In 1789, the genus Dahlia was first introduced to Europe at the Royal Botanic Gardens in Madrid. Nine years later, this genus was introduced to the Kew Gardens. Dahlias come in a range of forms and colors and with proper care, can be an easy addition to temperate gardens.
Dahlia Delirium, a video by Jules and Effin Older
In Praise of Dahlias by former MCBG Horticulturist, Mario Abreu
To see more photos of our dramatic Dahlias, visit the Photo Gallery.