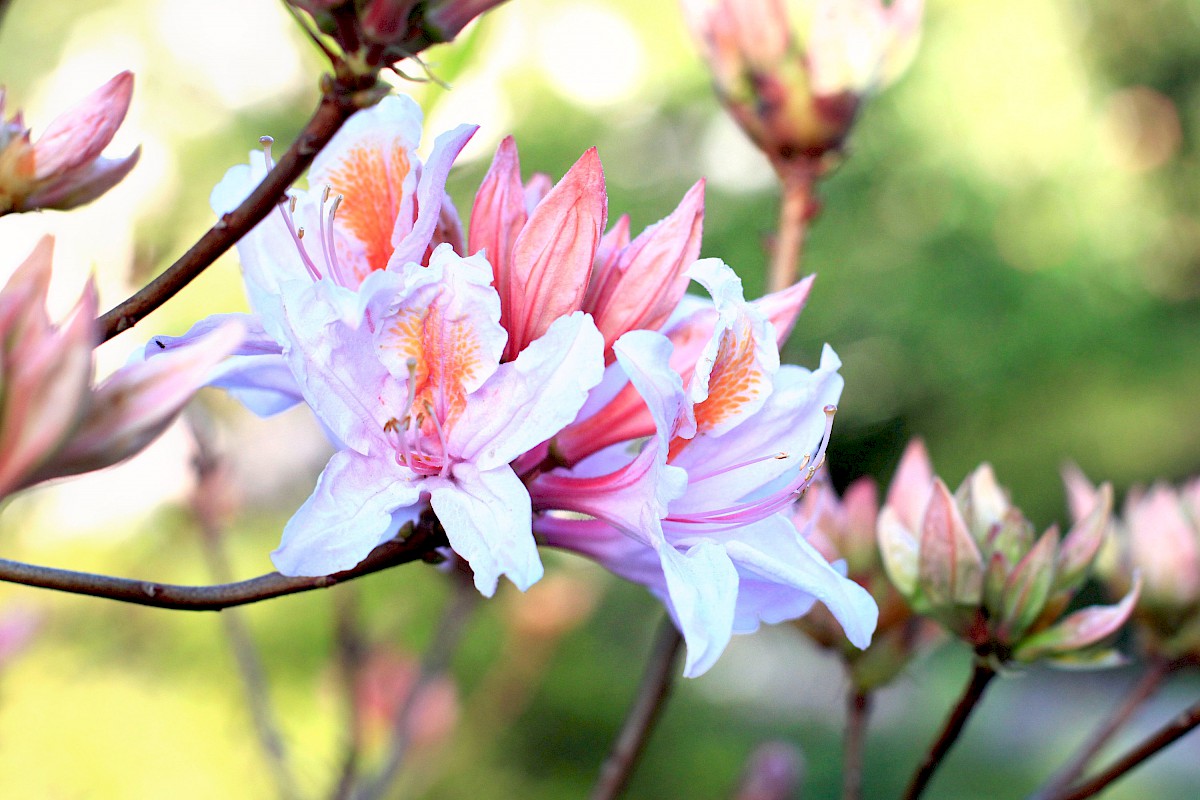 News from the Gardens
Interested in re-reading some of our e-newsletters and articles from the past? Each "Bloom Blast" is chock-full of information about the Gardens, our glorious collections, what is in bloom, upcoming events, educational opportunities, and more. Sign up for News from the Gardens—Join now!
Follow us on Facebook, Instagram, YouTube, and Pinterest to keep up with the latest and greatest!
---
MCBG E-Newsletters
CLICK HERE to read newsletters and articles from 2020 and beyond...
---
MCBG in the News
The Mendocino Coast Botanical Gardens is a garden worth writing about. Here are notable articles in which we are included.
Features
NBC Los Angeles: Alight among the lights of an ocean-close garden in magical Mendocino County, Alysia Gray Painter 
USA Today: Best Place to Propose (2023)
NBC Los Angeles: Stroll Through a Shimmering Wonderland by the Sea, Alysia Gray Painter 
Flower Power Garden Hour: Podcast episode 95: Mendocino Coast Botanical Gardens
Fort Bragg Advocate-News: Children's Fund announces new program with "Botanical Benefits", Sarah Stierch
Hi Travel Tales: Mendocino Coast Botanical Gardens: rhododendrons, ocean views, whales, Michael Hodgson
Public Garden Magazine: Garden Professional Spotlight – Molly Barker
NBC Bay Area News "Worth the Trip": A Pacific-Close Garden Takes Its Holiday Lights Online, Alysia Gray Painter
GardenBook: Dahlia Season at the Coast
Travel Realizations: Mendocino Coast Botanical Gardens – A Photo Essay!, Chirasree Banerjee
Healthy Living - Eisenhower Health: Splendor on the Northern California Coast, Deborah Liv Johnson
Fort Bragg Advocate-News: Druecker Memorial brings out the rhododendrons, and fans, Michelle Blackwell
Fort Bragg Advocate-News: BioBlitz sharpens citizen science skills, Chris Calder
The American Gardener: RAP Gardens in Focus: Mendocino Coast Botanical Gardens, Viveka Neveln
Pacific Horticulture Society: Giant Staghorn Fern Finds New Home at Mendocino Coast Botanical Gardens, Roxanne Perkins
---
MCBG Mentions
AZ Animals: The 16 Best Botanical Gardens That Are "Must Visits" in California, Nixza Gonzalez
Dog Trekker: Delights for dogs in Mendocino County
Pure Wow: How to Spend a Weekend in Mendocino County, Northern California's Charming Year-Round Destination, Fiona Chandra
Mendocino Voice: Mendocino Flavors: Queenie lands in Fort Bragg
Mendocino Voice: The ultimate guide to dog-friendly dining in Mendocino County, Sarah Stierch
Ukiah Daily Journal: A full circle: Exploring Mendocino County on a day trip to the coast, Karen Rifkin
Mendocino Voice: Mendocino Flavors: Winery news, vegetarian Indian pop-up in Willits, Boonville pepper producer on PBS and more tasty news, Sarah Stierch
Only in Your State: 7 Beautiful Northern California Locations You Probably Didn't Know Existed, Kate Freeman
Family Vacationist: 12 Great Things to Do in Mendocino, Kathy Boardman
Lonely Planet: Kid-friendly destinations are a California specialty, Valerie Stimac
Travel Lense: 15 Best Things to Do in Mendocino County, CA, Blake Walsh
TimeOut.com: The 15 best things to do in Mendocino, Clara Hogan
USA Today: 10Best readers cite the best in romantic travel
CaliforniaFamilyTravel.com: Fun Things to Do in Mendocino County
ThisIsMyHappiness.com: Best Things To Do In Northern California December 2022
7x7.com: Wellness, Sustainability + Style on a Weekend in Mendocino, Shoshi Parks
New York Times: California Today – Nov 10, 2022
Los Angeles Times: Why are people in L.A. flocking to Mendocino? Two words: Mushroom season, Rachel Schnalzer
AARP.org: AARP's Guide to Redwood National and State Parks, Elaine Glusac
San Francisco Chronicle: Highway 1 Road Trip: Six itineraries along California's iconic coast
Travel Lemmings: 23 Best California Beach Towns (in 2022), McKenna Mobley
Dog Trekker: Take a Bragg-adocious break
Locale Magazine: How to Spend an Idyllic 48 Hours in Mendocino, Alexis Mills
Anderson Valley Advertiser: Take a Fort Bragg 'Staycation', Terry Sites
New York Magazine: Steal My Vacation, July 20, 2022,  Tyler Bainbridge as told to Margaret Rhodes
Sonoma Magazine: How to Vacation with Your Dog on the Mendocino Coast, Dana Rebmann
The Monterey Herald: Linda Mullally, Travels with the Mullallys: Adobes, zebras, rails and rhodies
Trips to Discover: The Most Romantic Destination in Every State, K.C. Dermody
AARP.org: 8 Ways to Create Gorgeous Container Gardens, Susan Moeller
Via magazine: Favorite Gardens in the West
Savvy California: Fort Bragg: Northern California Coastal Escape
Forbes Magazine: A 48-Hour Culinary Tour Of Mendocino County, Chelsea Davis
The Mendocino Beacon: Latino Coalition: Latino Coalition seeks donations for its Scholarship Fund
Viva Glam Magazine: Mendocino, The Heart and Soul of California, Malorie Mackey
KRON 4 News: 'Postcard-worthy scenery': Planning your Mendocino County road trip
PureWow: 10 Summer Weekend Getaways from SF That You Should Book Right Now, Allison McCarthy
The Monterey Herald: Travels with the Mullallys: Looking for glamour in camping, Linda B. Mullally
Trips to Discover: 12 Best Vacation Destinations on America's West Coast, K. C. Dermody
KZYX Putting Down Roots: June 3, 2021 Episode
California.com: The Best Family Road Trips in Every Region of California
KZYX Ecology Hour: May 4, 2021 Episode
Mendocino Voice: Mendo Need to Know: a guide to Mendocino's great outdoors, Kate B. Maxwell
The Press Democrat: California in Bloom, Stephen Nett
Fort Bragg Advocate-News: Science, adventure at the coast's annual Scavenger Hunt, Peter O'Donohue
Forbes magazine: Ten Ultra-Romantic Road Trips By Car Or Recreation Vehicle—Safe, Scenic, Sensual, Lea Lane
Via magazine: 16 Gorgeous Gardens in the West, Lauren Parvizi
Roadtripping California: 15 Fabulous Things to Do in Fort Bragg, California
Pacific Horticulture: A Horticultural Adventure through the West: Northern California, Hallie Schmidt
Forbes: Mushrooms Are Having A Moment In Mendocino County, Leslie Kelly
The Signal: Celebrate the holidays: festive holiday travel, Michele Buttelman
Videos about the Gardens
Mendocino Coast Films , A Day in the Gardens
Oldstrand.com, Rhododendron season at Mendocino Coast Botanical Gardens
Mendocino Coast Chamber of Commerce (video by Mateo Ortiz), Mendocino Coast Botanical Gardens
Maxine Elizabeth Hines, Mendocino Coast Botanical Gardens
Jules Older, Dahlia Delirium
The Mendocino Coast Children's Fund (MCCF) is providing 200 local families with memberships to the Botanical Gardens. MCCF's "Botanical Benefits" program will increase access to the healing power of nature for our community's hard-working underserved families in a safe and beautiful space. The memberships will be distributed through MCCF partners including local schools, agencies, and programs serving underserved communities.