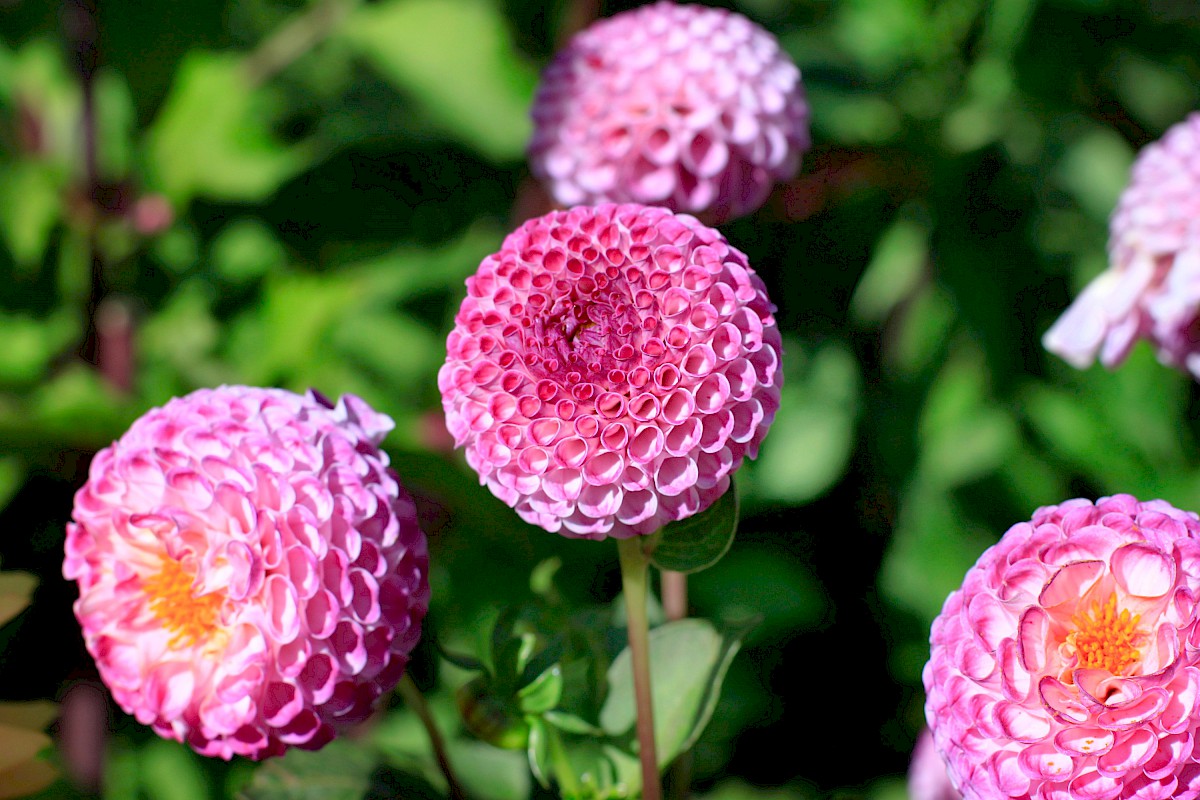 MCBG Administrative Coordinator
The Mendocino Coast Botanical Gardens is a 501(c)3 nonprofit organization that operates a nationally recognized public garden known for its beauty, significant plant collections, and coastal bluffs. The Gardens has grown into the leading attraction on the Mendocino Coast through the collaborative effort of our passionate and dedicated staff, volunteers, and board. Our work environment is built on teamwork and making certain our guests have an inspiring experience. The Gardens is an equal opportunity employer and we are committed to creating an inclusive environment for all employees and guests.
The Administrative Coordinator position is multifaceted with an emphasis on the success of the Gardens' daily function and our volunteer program. To be successful in this role, you should have excellent organizational skills along with the ability to prioritize tasks and meet deadlines. The position performs a broad range of administrative functions that touch on nearly every aspect of what we do at the Gardens. The position has a set schedule (Mon – Fri; 8:30AM – 5:00PM) aside from our two major annual events and a handful of evening events which often require support from admin staff.
ADMINISTRATIVE COORDINATOR
REPORTS TO: Communications Manager
POSITION: Full-time; non-exempt; salary range $20 – $23/hr
BENEFITS: Paid time off and sick leave; medical and dental coverage
RESPONSIBILITIES:
Administrative Coordination
Answer phones and greet all who enters the admin office and respond to or direct inquiries
Provide guests with basic information about bloom times, memberships, workshops, events, and more
Assist guests in purchasing tickets and memberships when necessary
Provide administrative support for the office functions and programs as needed
Serve as main contact for group visits and schedule all group visits and school tours
Communicate regularly with Guest Services staff and maintain a weekly calendar keeping them up to date on group visits, guided tours, events, workshops, and other such occasions
Manage bulk mailings (approximately 6/year) and coordinate with staff/volunteers as needed
Assist with special projects, such as Annual Appeal, Board Ballots, and other
Schedule and communicate meetings with direction from the Executive Director (ED) and your supervisor
Assist ED in typing and formatting documents as necessary
Manage communications for Board of Directors such as compiling monthly meeting packets, annual updates of the Board Binder, and archiving Board communications on the server
Volunteer Coordination
Serve as principal staff person responsible for recruitment, assignment, and communication with MCBG volunteers (approximately 150/year)
Provide orientation for new volunteers and keep long-time volunteers up to date with general training on the Gardens, our history, policies, and procedures
Secure volunteers for guided tours, garden work, mailings, store, nursery, café, events, and other activities that require volunteer support
Assist with annual volunteer docent trainings and continued educational opportunities
Consistently recognize and award volunteers for their involvement in the success of the Gardens via e-newsletters, cards, gatherings, or other
Track volunteer hours and provide earned memberships and other benefits monthly
Attend monthly Friends of the Gardens (FOG) meetings to present volunteer opportunities
Donor Development & Data Management
Cultivate donors in everyday interaction with guests, members, and volunteers
Perform accurate filtering and mail merges through DonorPerfect to communicate with donors and members
Create donor engagement reports under the direct direction of the ED using the data in DonorPerfect
ESSENTIAL QUALIFICATIONS:
Strong computer skills, specifically MS Office Suite; Google Workspace and Adobe Acrobat a plus
Proficiency with office technology and equipment, including computer, printer, and fax machine
Experience using and maintaining databases, membership or donor database work is a plus
Strong written (copywriting and editing) and verbal communication skills
Experience working with volunteers is a plus
Bilingual in English/Spanish is a plus
Able to establish positive, collaborative working relationships with a broad array of individuals
Able to prioritize, multi-task, communicate effectively, and stay organized in a busy office setting
Must be able to maintain the confidentiality of MCBG information
TO APPLY, please submit a cover letter along with a resume to the MCBG Communications Manager, Roxanne Perkins at marketing@gardenbythesea.org or apply through Indeed.
---
ABOUT THE MENDOCINO COAST BOTANICAL GARDENS
The Mendocino Coast Botanical Gardens (MCBG) is a nonprofit botanical garden with a unique mixture of manicured gardens and wild habitat located along the Pacific Ocean. Our mission is to engage and enrich lives by displaying and conserving plants in harmony with our Northern California coastal ecosystems and to preserve public access to the coast.
Each year, more than 100,000 people experience the wonder of nature in all its seasons at the Mendocino Coast Botanical Gardens. This botanical escape is a place for guests to be inspired and experience the simple joy of a natural setting.