Rhododendron Collection
Typical bloom time: December through May
Like many public gardens, the Mendocino Coast Botanical Gardens has been built through the devotion and hard work of people who love plants and gardens. The Gardens has been particularly fortunate in having so many outstanding Rhododendron enthusiasts and experts to help guide the development of the collection. As of 2018, the MCBG collection includes over 124 species of rhododendrons and 315 taxa, many of them developed by the region's prolific, enthusiastic, and generous rhododendron growers. More than 1,000 rhododendrons can be seen blooming throughout the Gardens during peak bloom in April and May.
Tender Species and Big-Leaf Rhododendron Collection
Beginning in 1994, local Rhododendron enthusiast and volunteer Peter Schick donated a major collection of tender species rhododendrons to the Gardens. Unlike the more familiar Rhododendron hybrid, tender species are known for their intoxicating fragrance. Mr. Schick also donated his collection of big-leaf Rhododendrons. With leaves up to 25 inches in length, these exotic plants stand out along Fern Canyon Creek. Our collection represents many species that are endangered and some that are extinct in their native habitats.
Tender species rhododendrons are found between 25- and 35-degrees latitude at elevations between 4,000 and 9,000 feet in their native habitats in Burma, China, and Tibet. In North America, only a narrow strip from Santa Cruz, California to Brookings, Oregon is suitable habitat for these plants. Mendocino Coast Botanical Gardens is close to the center of the optimal zone—the southern part of this strip is limited by low rainfall and restricted groundwater, while the northern section is limited by periodic extremes of cold. Our lack of summer rain is offset by our coastal fog and by the availability of irrigation water from Fern Canyon Creek.
Fort Bragg Rhododendron Collection
Planted near the marsh is the Fort Bragg Rhododendron Collection. The collection is dedicated to John S. Druecker—plantsman, nurseryman, and hybridizer—and features Rhododendrons that were hybridized or selected here on the Mendocino Coast or are named after local places. Many of these hybrids were developed in the region by now well-known breeders, including Paul Bowman, John Druecker, Pauline Newberry, Bud Richards, Gene German, Jim Drewry, and Eleanor Philp. All of the new plants for this garden were donated from private collections and local nurseries. Len Charvet, Bob Boddy (Descanso Nursery in Fort Bragg), Celeri & Son, and Forest Lane Nursery each donated hundreds of Rhododendrons to MCBG.
Rhododendron Cultivar Collection
From the Perennial Garden to the Event Lawn area, the Gardens is home to hundreds of rhododendron cultivars. While some are newer introductions, many of the older cultivars are no longer found in nurseries. Many were planted by Ernie Schoefer, and were donated by local Rhododendron nurseries. Mature plants reach towering heights and create a magical riot of color that peaks in May.
---
History of the collection – Mendocino Coast Botanical Gardens: A Tribute to Rhododendron Lovers, Nancy Morin
Plant List: MCBG Rhododendron Collection
Be sure to join us for CALIFORNIA'S LARGEST RHODODENDRON SHOW held right here at the Gardens each spring!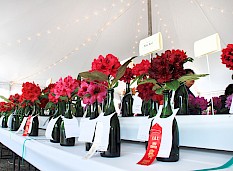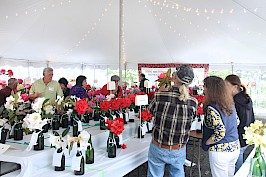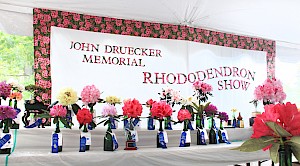 CLICK HERE to view more photos from the 2017 Rhododendron Show
For more information on rhododendrons and azaleas, visit the American Rhododendron Society at www.rhododendron.org, or contact our local Rhododendron Society Chapter.