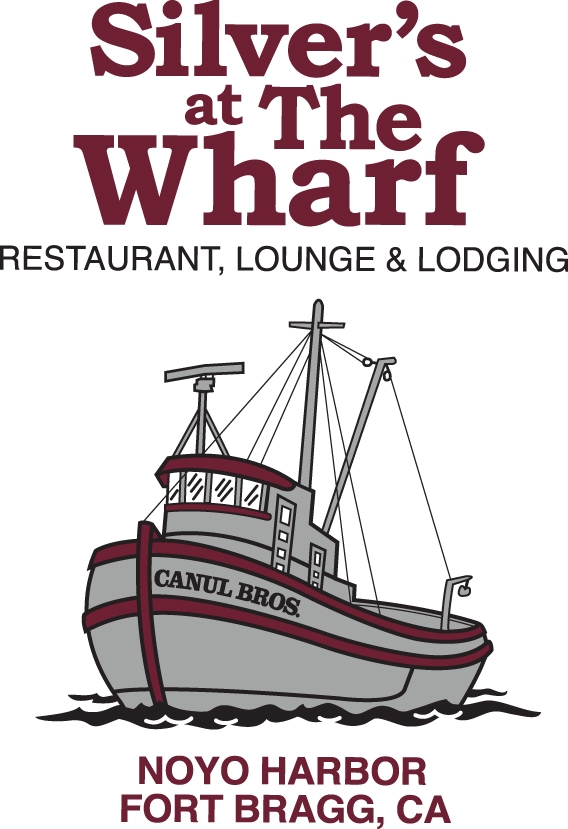 Silver's at the Wharf
Silver's at The Wharf Restaurant, Lounge and Lodging is located in the heart of the scenic Noyo Harbor Fishing Village, and is one of the oldest family-fun eating and lodging establishments on the Northern Coast of California. The Restaurant began in the early 1950's as a small coffee shop overlooking the Noyo River and Pacific Ocean. The lodging units, operating under the name Anchor Lodge, date to the 1940's and offers 5 waterfront and 12 economy rooms.
The breathtaking view has been a destination for many over the years; now with co-owner and Executive Chef Silver Canul, comes updated cuisine with innovative dishes tailored for the modern palate, while retaining the popular dishes desired by locals and regulars.
With over 20 years experience each; Silver and brother Juan Pablo have created an extensive menu offering oysters on the half shell, prize winning crab cakes, calamari, cioppino, Dungeness crab, salmon, halibut, Petrale sole, lobster tails, steaks. prime rib and game hens. Portion pricing has proven extremely popular giving guests choices on quantity and price. Lighter Fare choices such as fish and chips, fish tacos, clams and mussels, burgers, crab melts, quesadillas, nachos, tamales, pastas and a selection of salads are also available. Full menu service is available in the Sports Lounge featuring television viewing from every angle and on the "dog friendly" deck weather permitting. Silver's is open seven days a week, opening at 11 am. Closing times vary by season.
Dedicated to using only fresh ingredients and individual preparation of menu items, Silver and Juan Pablo add their Mayan touch and knowledge of French reduction methods to create wonderfully tasting sauces. "With concern for people's health, my style is pan searing rather than frying…giving a new dimension to foods…and adding a touch of Habanero sauce to "kick it up a notch!"
The commercial fishing fleet sails past the Wharf's dining room and lounge windows in pursuit of salmon, albacore, cod, sea urchin, snapper and crab. Sport fishing charter boats, whale watching excursions, private boats, Coast Guard vessels, kayaks, row boats, seals and sea birds of all kinds will pass by as you enjoy our lunch or dinner at Silver's at The Wharf. Come early to get a window table over the water and watch the world of Noyo Harbor unfold.
32260 North Harbor Drive
Fort Bragg, CA 95437