Sea Rock Inn
The Sea Rock Inn, a Mendocino Bed and Breakfast, offers romantic ocean view cottages and suites overlooking Agate Cove along the coast. Come to the Sea Rock Inn for Mendocino lodging with comfort, privacy, and superb views of the beauty of the coast. Snuggle up in front of a fireplace or unwind in a soaking tub in our Mendocino cottage while watching the sun setting over the rugged Northern California coastline for the perfect vacation. From your Mendocino cottage or suite, you will experience the true beauty of the Pacific coast with spectacular panoramic views of the ocean and the dramatic rocky cliffs of the Mendocino Headlands State Park.
Mendocino Cottages with the Finest Luxuries
Sea Rock Inn is truly one of the best places to stay in Mendocino. The stunning setting is perfect for a memorable Mendocino getaway or honeymoon. Our elegant accommodations accented with hand hewn wood treatments feature luxuriously comfortable coastal contemporary design and are fully appointed with virtually every amenity imaginable. Stroll through colorful gardens, walk to town, curl up by the fireplace or relax on your deck and watch the sunset from your private Mendocino cottage or suite.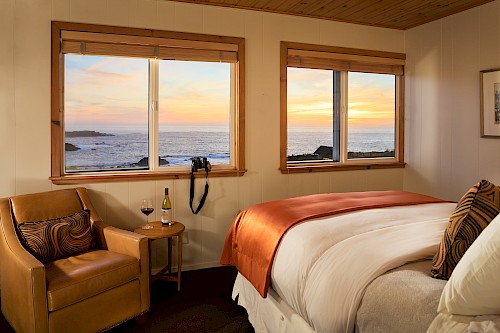 11101 Lansing Street
Mendocino, CA 95460
Phone
: (707) 937-0926
Toll-free
: (800) 906-0926