Sea Gull Inn Bed & Breakfast
Mendocino's Sea Gull Inn, located just steps to shops, beaches, and fine dining, is one of the original B&B Inns on the scenic Northern California Coast.
This Mendocino Bed and Breakfast Inn was built in 1878 and has served the traveling public since the 1960s. Along with the spectacular location, this Mendocino B&B Inn is noted for its beautiful gardens and secluded sitting areas.
Meticulously maintained, the inn and its grounds are very much a part of Mendocino's charm. All nine guest rooms at this Mendocino inn have private baths and some have views of the ever-changing Pacific Ocean.
A delicious organic breakfast is served in your room, at the time of your choice, from 8:30 a.m. to 9:30 a.m.
Location! Location! Within walking distance of this Mendocino's Bed and Breakfast is abundant shopping, a wealth of dining options, museums and art galleries.
The oceanfront bluffs are a short stroll from the inn where guests enjoy the winding paths that lead to the picturesque Pacific Ocean. Less than ten miles away, guests can visit two state parks with hiking and biking trails. Even closer is Big River - where there are opportunities to mountain bike, kayak, and canoe.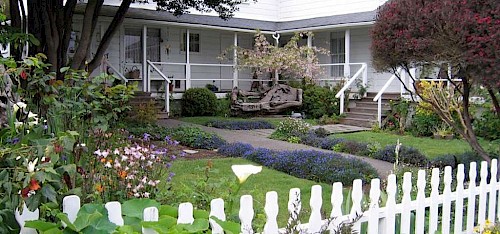 44960 Albion Street
Mendocino, California 95460
Phone
: (707 937-5204
Toll-free
: (888) 937-5204