Perennial Photography with Saxon Holt
Saturday, August 12, 2023 from 4PM to 7PM
and Sunday, August 13 from 7AM to 10AM
at the Mendocino Coast Botanical Gardens
Get a rare glimpse of the Gardens at dusk and dawn while sharpening your skills with award-winning photographer, Saxon Holt. Learn how to look at a beautiful garden (such as MCBG) and decide what to photograph and how to frame it. Photographers need to know what they're looking at, what story they're trying to tell, and how to frame a composition that communicates exactly that story. This two-day workshop will focus on flower combinations and compositions using color, shape, foliage, and texture. Each session will begin with a photo walk with Saxon and conclude with a critique in the MCBG Farmhouse. The workshop fee includes the option to attend Saxon's Find the Photo lecture, which will provide an introduction to deciding what to photograph and how to frame it.
THE DETAILS
Bring a digital camera with a memory card and a tripod. Consider bringing a backup battery or charging cable and lens cleaning materials.
The class will include a little indoor instruction and hands-on time outside. Be prepared for the weather with appropriate layers.
Bring a water bottle, paper, and a pencil/pen.
Masks are optional. If you are sick, please stay home.
REGISTRATION
Class size is limited! Registration for this workshop must be completed in advance online (click the appropriate registration link below) or at the MCBG gift shop. The workshop fee covers admission to the Gardens for 8/12 and 8/13 plus the option to attend Saxon's Find the Photo lecture at 2PM on 8/12 free of charge. Please note, all workshop fees are non-refundable unless the workshop has been canceled or rescheduled by the Gardens.
Workshop Registration .......................... $135 per student and includes Gardens admission for the day
Member Workshop Registration ............ $125 per current MCBG Member   *Verify your membership to receive discount
ABOUT THE INSTRUCTOR
Saxon Holt is a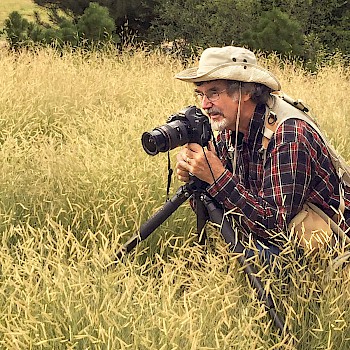 photojournalist and sole photographer of more than 30 garden books, most recently Gardening in Summer-Dry Climates published by Timber Press.  
He currently directs the Summer-Dry Project (www.summer-dry.com), an initiative to provide gardeners with information and examples to inspire sustainable, climate-adapted gardens in summer-dry and Mediterranean climates.
He offers garden photography workshops based on his e-book Good Garden Photography, found on the PhotoBotanic.com website where dozens of lessons on garden photography can also be found. "Being in a garden on a hunt for good photographs is a privileged time with plants. Photographers should be conscious to look carefully and compose within the camera frame."
  
Saxon is a member of ASMP (American Society of Media Photographers), a Fellow of GardenComm (Garden Communicators International), and owner of the PhotoBotanic Garden Library.
His work increasingly focuses on the relationship between gardens and the land, seeking a sustainable aesthetic that can enhance both gardener and the earth. 
  
"Gardens matter. Every small act we do adds resiliency."
RECOMMENDED RESOURCES
Gardening in Summer-Dry Climates by Nora Harlow and Saxon Holt
Good Garden Photography by Saxon Holt
Overview
Start Date: Saturday, August 12, 2023
End Date: Sunday, August 13, 2023
Contact Email: education@gardenbythesea.org