Meditation at the Gardens
Fridays from 12:30PM to 1:30PM
May 5 through October 13, 2023
on the MCBG Event Lawn
For millennia, people have been coming together outdoors to sit on the earth among birdsong and wind whispering through trees. Join Ashley Sharp for a guided mindfulness meditation. Each class will have time for questions and a short wisdom teaching to apply to your everyday life. There are benches to sit on or you can recline in the grass and gaze at the sky. Because we are practicing outside in a public garden, the practice will be open and inclusive of the environment and all of the possible distractions. It will be good practice for life! This class will explore topics such as staying steady in uncertain times, the interconnected abundant nature of this world, and the cultivation of gratitude even when things are tough.
THE DETAILS
This class will be held outdoors, so please be prepared for the weather with appropriate layers.

Rain, soggy conditions, or temperatures below 40°F cancel – check this web page or the 

Facebook event

 for cancelation notices. 

Bring something to sit on (if you prefer the grass to a bench), sunscreen/sun protection, and drinking water.
Plan to arrive at the Gardens' entrance by 12PM to allow plenty of time to reach the Event Lawn, the class will begin promptly at 12:30PM.
To reach the Event Lawn stay on the South Trail (veer left) and breeze past the Dahlia Garden, you will arrive at the Event Lawn in a flash.
ADMISSIONS & CLASS FEE
The class fee is a sliding scale of $7 to $25 per participant plus Gardens general admission.
Pay admission at the entrance. Members of the Gardens enter for free.
The class fee will be collected by the instructor when you reach the Event Lawn (cash, check, or Venmo).
Rain, soggy conditions, or temperatures below 40°F cancel – check this web page or the Facebook event for cancelation notices. Meditation will not be available on the following days during the 2023 season: August 5, August 6, and September 9
ABOUT THE INSTRUCTOR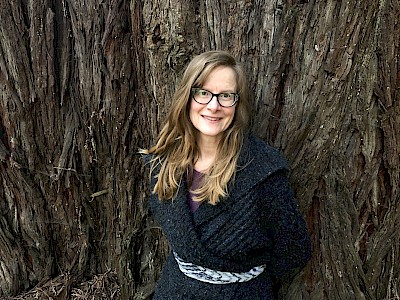 Ashley Sharp finds great joy in the on-going study and practice of mindfulness meditation and has been teaching meditation, mindfulness, and yoga for over two decades. Her deep curiosity and love of teaching is evident from the first class. Her classes weave together the inspirational, the nitty-gritty how-to, and practical daily life applications of both mindfulness and wisdom teachings. She graduated from the "Dedicated Practitioner Program," and the "Community Dharma Leader" (both are 2-year invitational trainings through Spirit Rock Meditation Center). In 2015, she co-founded a community meditation group called Insight Richmond. She currently lives in Northern California among the redwood trees where she runs a small retreat center called Refuge at Pudding Creek. The center focuses on awakening through mindfulness, nature, art, and yoga. Sharp is the author of "Mindfulness for Beginners: 4 Weeks to Everyday Peace, Gratitude, and Focus".
Overview
Start Date: Friday, May 5, 2023
End Date: Friday, October 13, 2023