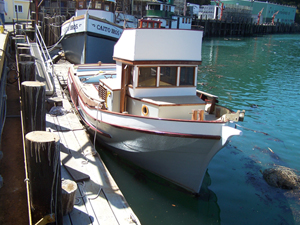 Makela Boatworks
The history of the wooden boat goes back to the beginning of man and the sea and the forest.
With the advent of modern materials such as steel, fiberglass, and epoxy the craft of building boats from natural materials has become something of a lost art.
The skills of selecting the wood, along with shaping, fitting, and joining are only held by a few shipwrights today. Howard Makela learned the craft of wooden boat building from his father and uncle, and as he grew up continued the business, expanding and honing his skills along the way.
On the coast of Northern California, Makela Boatworks keeps the tradition alive. Located in the fishing village of Noyo, Howard spends much of his time working on boats that earn their keep. His true love though is building boats, commercial or pleasure, from the keel up that will serve the owners for a lifetime.
19280 South Harbor Drive
Fort Bragg, California 95437