Retro Sunday – Community Appreciation Day
Sunday, April 21, 2019
PARKING IS LIMITED ~ Please plan to carpool as this is a very popular day to visit!
Flash back to the early 1960s and the origins of Mendocino Coast Botanical Gardens with $1 admission for everyone on Sunday, April 21, from 9:00am to 5:00pm. Retro Sunday is Mendocino Coast Botanical Gardens day of giving back to the community that has supported us for more than 58 years! The Gardens was founded in 1961 by retired nurseryman Ernest Schoefer and his wife, Betty. Ernest's keen eye spotted the ample supply of water augmented by the mild coastal climate and quality soil essential to acid-loving plants like Rhododendrons. The Grand Opening of the Gardens was in 1966.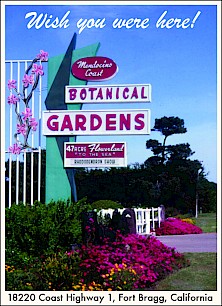 For those who have not visited in a while, come see what's new and blooming this spring. Tour the expanded organic demonstration Vegetable Garden. Delight in the rhododendron season peak bloom, roses, coastal wildflowers, and so much more. Introduce a friend to the Gardens and spend the day wandering the 47 acres of botanical bliss. Find inspiration for your home garden, have a family picnic, walk the dog, or find a quiet spot to melt the day away... just a few ideas to get you started.
---
Well-behaved dogs on 6ft. non-retractable leash welcome. Please clean up after your dog and dispose of the baggie in a trash receptacle. Be mindful that not everyone loves dogs.
Please, no smoking anywhere in the Gardens. Thank you.
Overview
Date: Sunday, April 21, 2019
Schedule Details: 9:00am to 5:00pm
Payment Information: $1 per person
Contact Phone: 707-964-4352 ext. 16