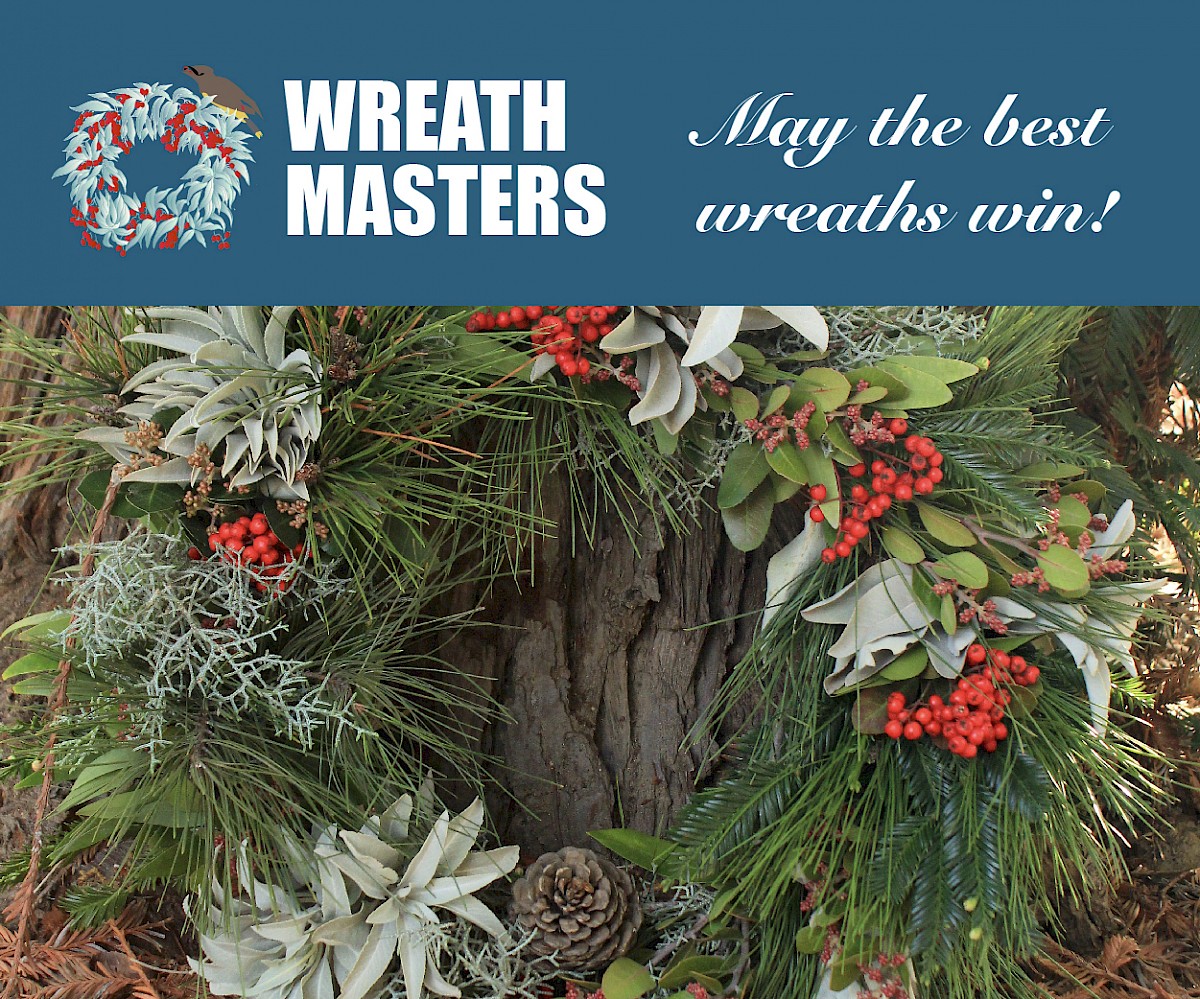 Wreath Masters 2020
Join us for a little holiday fun with the California Native Plant Society (CNPS)! We even made a quick video about it the Gardens and our experience with the inaugural Wreath Masters competition – watch it on the MCBG YouTube Channel.
Wreath Masters is a friendly competition between botanic gardens, nurseries, CNPS and other partners to create wreaths made with California native plants this winter. With six potential categories and competitors across the state, Wreath Masters is a celebration of the California native plant community and the seasonal beauty of native flora in our daily lives. All entries from our competing partners will be posted on this website: www.cnps.org/wreathmasters. 
REGISTER HERE to join us for the live competition on Friday, December 18 from 6 pm – 7 pm! Partners will present their nominated wreaths and our panel of celebrity judges will announce the winners for each category.
---
Here are some of the California native plants we found to include in our wreaths:
Abies amabilis – Pacific Silver Fir
Abies grandis – Grand Fir
Anthoxanthum occidentalis – Vanilla Grass
Arctostaphylos columbiana – Hairy Manzanita
Arctostaphylos 'Pacific Mist' – 'Pacific Mist' Manzanita
Arctostaphylos bakeri 'louis edmunds' – Manzanita
Arctostaphylos mendocinoensis – Pygmy Manzanita
Arctostaphylos nummularia – Glossy Leaf Manzanita
Arctostaphylos uva-ursi – Pint Reyes Manzanita
Bacharis pilularis – Coyote Bush
Blechnum spicant – Deer Fern
Cornus sericea 'baileyi' – Red twig Dogwood
Cupressus macrocarpa – Monterey Cypress
Evernia sp.
Garrya elliptica – Silk Tassel Bush
Gaultheria shallon – Salal
Hesperocyparis pygmaea
Hesperocyparis pygmaea – Pygmy Cypress
Hypogymnia sp.
Iris douglasiana – Douglas Iris
Juncus sp. – Rush
Mahonia aquilofolium– Oregon Grape
Morella californica – Pacific Wax Myrtle
Native moss
Notholithocarpus desiflorus –Tan Oak
Parmelia sp.
Physcia sp.
Picea sitchensis – Sitka Spruce
Pinus contorta – Shore Pine
Pinus contorta subsp. bolanderi – Pygmy Pine
Pinus muricata – Bishop Pine
Platismatia sp.
Polystichum munitum – Sword Fern
Psuedotsuga macrocarpa – Douglas Fir
Ramalina sp.
Rhododendron columbianum – Western Labrador Tea
Sequoia sempervirens – Coast Redwood
Tsuga heterophylla – Western Hemlock
Usnea sp. – Native Lichen
Vaccinium ovatum – Black/Blue Huckleberry
Vaccinium parvifloia – Red Huckleberry
All materials were ethically gathered from our 47-acre garden by the sea and from the gardens of our volunteers.
---
#MendoWreathMasters GIVEAWAY
Let's see what you can do! Post photos of your festively decorated wreaths on Instagram for a chance to win 4 tickets to the Mendocino Coast Botanical Gardens. Here's what you need to do:
Follow @mendocoastbotanicalgardens on Instagram.
Post and tag photos of your rhododendrons with #mendowreathmasters and @mendocoastbotanicalgardens on Instagram.
This giveaway is in no way sponsored, administered or associated with Instagram. By entering, you confirm you are 13+ years of age, release Instagram of responsibility and agree to Instagram's terms of use. This contest closes on Thursday, December 31, 2020. One winner will receive 4 general admission tickets to Mendocino Coast Botanical Gardens. The winner will be chosen at random and notified on Friday, January 1, 2021.
Overview
Start Date: Wednesday, November 4, 2020
End Date: Thursday, December 31, 2020