Rhody's Garden Café
Fresh at its Best!
Rhody's is open for the season!
Rhody's Garden Café is open seasonally, with the same level of high-quality ingredients from regional providers including fresh-picked produce from our own organic Vegetable Garden. Made-to-order sandwiches on organic Fort Bragg Bakery and Roland's Bakery breads (including gluten-free), housemade soups, and beautiful organic salads with housemade dressings. Daily lunch specials include grilled gourmet Panini sandwiches, and there is always a vegan option.
Have lunch on The Plaza, overlooking the Perennial Garden or take your food out for a picnic at your favorite picnic bench or in the Cliff House. There's no admission fee to come eat at the Café. 
Great desserts are back—enjoy a cup of Thanksgiving Coffee with a daily treat from Bolliver's Fine Foods, Costeaux Bakery or one of Marie's fresh-baked cookies. Gluten-free desserts available. Avoid the after-school crowds in town and purchase your Cowlick's Ice Cream cone here. Did you know that with a minimum purchase, your favorite canine can enjoy a "doggy ice cream"? Drinks at the Café include made-to-order fruit smoothies, hot, iced, or blended coffee, Chai and other teas, and Marie's Fresh Organic Strawberry Lemonade.
Open daily (April–Sept) from 11:00am to 3:00pm
Lunch served until 3:00pm, ice cream until 4:30pm 
For more information, please call 707-964-4352 ext. 20
---
Weekly Specials:
Monday — HAM & CHEDDAR MELT on cinnamon raisin bread with apple slices and apple butter
Tuesday — FALAFELS and house-made tzatziki sauce served on whole grain pita with sprouts, tomatoes, and cucumbers
 
Wednesday — SALAMI POPPERS with jalapeño cream cheese, tomatoes, roasted bell peppers, red onions, and spinach
 
Thursday — REUBEN ON RYE with swiss cheese, dijon mustard, pickles, sauerkraut, and house-made Russian dressing
 
Friday — GYROS in handmade Pita with tomatoes, cucumbers, red onions, sprouts and house-made tzatziki sauce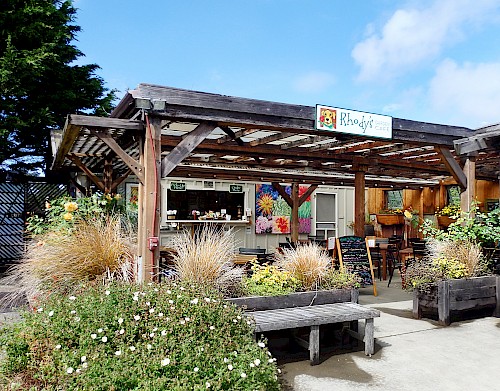 Let us know what you think, find the Café on Facebook. 
Did you know... Rhody's is now on TripAdvisor!
If you have had a wonderfully delicious experience at Rhody's please share the love and help spread the word about our fantastic lunch spot.
CLICK HERE TO REVIEW