Show Dressed Up
Show Dressed up is a small business located in Northern California that was started in January of 2003. Since then, we have continually produced quality garments in very limited production (most are One-of-a-Kind creations or only 1-2 made from each fabric).    
We custom make Woman's and Girl's Western Show Shirts, Tunics, Vests and Jackets for Western pleasure, Horsemanship, Showmanship, On the rail, Walk-trot and Lead-line.  We work with our customers to produce garments that match their saddle pads, chaps, horses, etc. We offer a wide variety of fabrics and colors to choose from. If we do not have a fabric in stock that interests you, we have access to 1000's of fabrics to choose from!  
We know a successful business is built on a quality product and customer service. We Pride ourselves on both. Check out our customer testimonials and you will see that we make and sell a quality product and have happy customers.  
Fawn, the founder of Show Dressed Up, has been a seamstress for 35 years and she takes pride in her workmanship and customer satisfaction.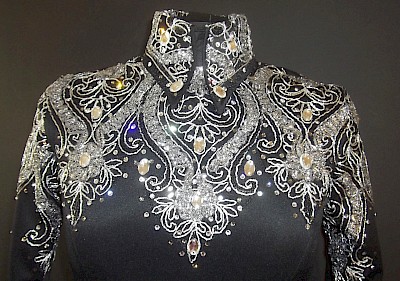 3050 Robin Lane
Clearlake, C 95422