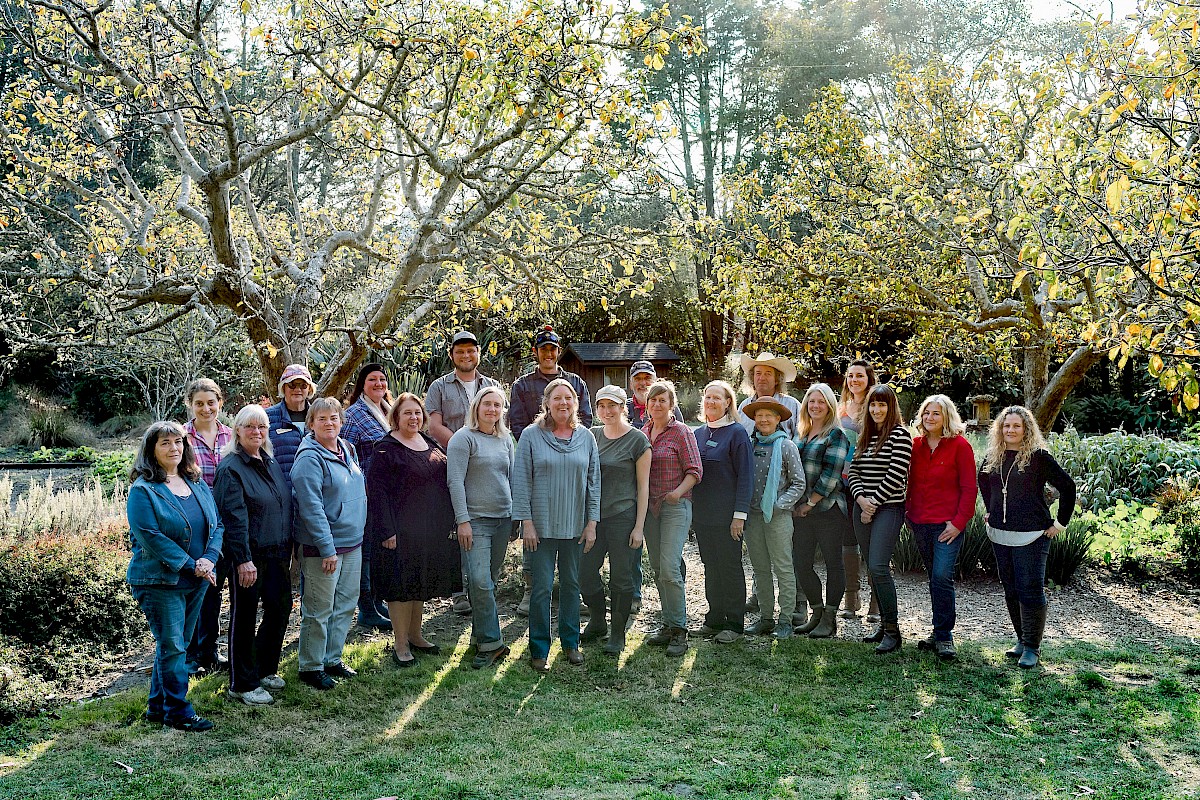 Our annual appeal for support
When retired nurseryman Ernest Schoefer and his wife Betty founded the Mendocino Coast Botanical Gardens in 1961, they set out to create a display garden showcasing plants that flourish in the uniquely mild climate of the Mendocino Coast. They called it "Flowerland to the Sea." Admission was a suggested donation that visitors could place inside a small box at the entrance.
The Gardens has changed a lot in 57 years, but we still earn majority of our funding –68%– by providing visitors with a wonderful experience. The rest of our funding comes from supporters like you!
Your support has helped us achieve a lot in the last year. Have you noticed the new water fountain on the plaza, providing refreshment for both doggie and human visitors? How about the new lizard made of Sempervivum arachnoideum in the Succulent Garden or the 250-pound staghorn fern hanging under the Cryptomeria japonica?  We also have made a home on our bluffs for 271 rescued specimens of Dudleya farinosa, a native succulent that is being widely poached throughout the region. Behind the scenes we have replaced our propagation house roof thanks to a gift from Friends of the Gardens and mended our pothole-ridden parking lot. All of these improvements were only made possible through the generous contributions from our community and the enduring work of our staff, board, and volunteers. Thank you for making 2018 one for the books.
In the coming year we look forward to making progress on our crumbling trails. We are also poised to go beyond our brick and mortar needs (which we will always address), to investing in more educational opportunities. Thanks to the very meaningful support of the William and Inez Mabie Family Foundation we have just finished the renovation of the old farmhouse, transforming it into a space for lectures, workshops and meetings. We want to inspire a new garden of ideas and knowledge propelled by our beautiful collections, Perennial Garden, and ocean bluffs.
Continuing to grow our educational goals and our gardens will require the stability of knowing you support us. Your contribution makes a difference in our ability to imagine an even more abundant garden; nurturing both landscape and ideas.
Please consider making a donation toward our annual appeal. You can donate one of three ways:
Complete the convenient form at  www.gardenbythesea.org/donations.
Visit the Gardens and submit your generous gift at The Garden Store.
Mail your donation in the form of a check. Our address is 18220 N. Highway 1, Fort Bragg, CA 95437. The check must be dated before December 31, 2018, to count towards your 2018 tax burden.
Mendocino Coast Botanical Gardens is a registered not-for-profit 501(c)3 organization; your donations are tax-deductible as allowed under the law.
---
Looking for ways to reduce your taxes through charitable giving, but finding your traditional charitable contributions are no longer deductible as of 2018? If you're older than 70 ½ you may be able to transfer up to $100,000 annually from your IRAs to a qualified charity and have your taxable income reduced.
A Qualified Charitable Distribution (QCD) allows IRA owners over the age of 70 ½ to transfer part or all of their annual Required Minimum Distribution (RMD) directly to a qualified charity such as the Mendocino Coast Botanical Gardens. Click here to learn more!