AIG Summer Soirée
Garden Party & Featured Artist Reception
Friday, August 5, 2022
from 5:30PM to 7:30PM 
in the MCBG Perennial Garden
Not many get to enjoy the golden glow of our Perennial Garden at dusk. Join us for an exclusive evening amidst the flowers complete with hors d'oeuvres, drinks, and entertainment.
See this year's Art in the Gardens featured artwork and learn a bit about Featured Artist, Button Quinn's process. Sip a Blood Orange Aperol Spritz or Mendo Mule and mingle as you savor the evening glory of our Perennial Garden enhanced by birdsong and the acoustic melodies of Back Porch Duo.
Tickets are $125 per person and include hors d'oeuvres, craft cocktails, wine, beer, and entertainment.
All proceeds from this fundraiser event help to support the Mendocino Coast Botanical Gardens. Please note, these special event tickets are non-refundable unless the occasion has been canceled or rescheduled by the Gardens. Tickets for the Summer Soirée are limited and will sell quickly... PURCHASE TICKETS TODAY!
ENTERTAINMENT
Acoustic guitar, ukelele, and bass that accompany our harmony vocals by Back Porch Duo
FOOD & DRINK
Locally sourced hors d'oeuvres created by Lombardo's Fine Foods and provided by Harvest Market, Princess Seafood, and Roundman's Smokehouse & Butcher Shop
Wine sponsored by Bee Hunter Wine
Craft brews sponsored by North Coast Brewing Company
"Farm-to-Cocktails" concoctions crafted by Mendocino Outland
-- Blood Orange Aperol Spritz with prosecco, blood orange juice, Aperol-floral garnish
-- Mendo Mule with low abv vodka, ginger beer, lime blackberry preserves, garnished with blackberry and rosemary
-- Virgin Mule with ginger beer, lime blackberry preserves, garnished with blackberry and rosemary
---
2022 Featured Artist  |  BUTTON QUINN
This year's Featured Artist, Button Quinn, has been a professional artist for the last 50 years. Her work has been featured in numerous local and national art exhibits and can be found in private and commercial collections worldwide. Button resides in Mendocino, California, where she is inspired by the Northern California coastline's beautiful landscapes and rugged beauty.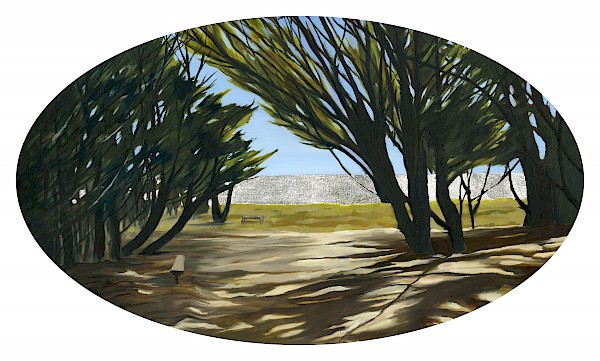 2022 AIG Featured Artwork
Silver Between the Cypress Trees by Button Quinn
Oil on wood panel with silver leaf – 36" x 21"
$1,700
Quinn explains:
"Art, in its broadest sense, is a form of communication. It means whatever the artist intends it to mean, and this meaning is shaped by the materials, techniques, and forms it uses and the ideas and feelings it creates in its viewers. Art is an act of expressing feelings, thoughts, and observations."
More of Button Quinn's work can be seen at artistbuttonquinn.com.
Overview
Date: Friday, August 5, 2022