Wonderful World of Succulents
Saturday, August 20, 2016
10:00am to 12:00pm
Gardens Meeting Room with local nursery owner Rella Gadulka

Explore the world of succulents… Join local specialty nursery owner, Rella Gadulka, for a hands-on workshop and overview of these delightful plants, including their growth habits and care. Discover successful techniques for potting, propagating, and companion planting. Learn to keep these water-wise plants happy from roots to leaves!
Rella will have plants to show and tell from Simply Succulent. The lecture will continue out in the Gardens where you can identify your favorite species of succulents and gain inspiration for a new water-efficient planter or garden.
Class size is limited; sign up by phoning in your payment at 707-964-4352 ext. 16 or reserve your spot in person at The Garden Store at MCBG.
---
About Rella and Simply Succulent: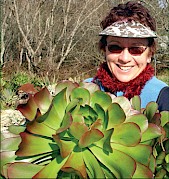 Rella Gadulka is an enthusiastic gardener who has owned and operated the local specialty nursery, Simply Succulent, since 1995. With thousands of succulents and other drought-tolerant perennials including many that feed pollinators—you are sure to find many interesting choices that will thrive in your particular garden exposure and hardiness zone.
It is a delight to roam through this acre of possibilities, with plants laid out in a tapestry of color, shape, and texture. Rella and her staff can answer any questions that come up about plant culture, care, and maintenance. Additional services offered at Simply Succulent include landscape consulting, plant rentals, bouquets and centerpieces for weddings or other special events.
Simply Succulent is located just two miles east of Fort Bragg at 31250 Highway 20 on the back acre. Call 707-357-1541 to find out more.
Open daily year-round:
MAR–SEPT 9:00am to 5:00pm 
OCT–FEB 10:00am to 3:00pm
---
Looking for a way to keep track of all of the wonderful workshops and events at Mendocino Coast Botanical Gardens?
Subscribe to the MCBG Events Feed on Facebook-www.facebook.com/mendocinocoastbotanicalgardens/events... and sign up for our "Bloom Blast", it is chock-full of info about the Gardens, our beautiful blooms, and upcoming events!
Overview
Date: Saturday, August 20, 2016
Location: Gardens Meeting Room @ Mendocino Coast Botanical Gardens
Instructor: Rella Gadulka
Payment Information: Class cost is $20 for members and Master Gardeners; $30 for non-members (includes Gardens admission for the day). Payment is due upon sign-up. Please note, all workshop fees are non-refundable unless the workshop has been canceled or rescheduled by the Gardens.
Contact
Contact: The Garden Store
Contact Phone: 707-964-4352 ext. 16