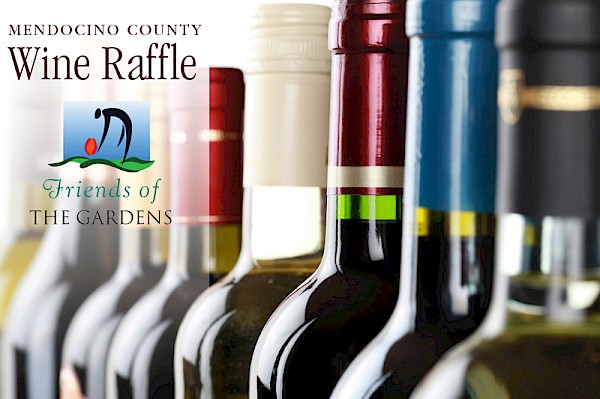 FOG Mendocino County Wine Raffle
Friends of the Gardens (FOG) invites you to take your chances in their annual raffle for Mendocino County wines.
The Wine Raffle was started in 2003 and, with the generosity of many Mendocino County wineries and support from people who purchased the tickets, FOG has raised more than $118,000 for the Gardens. This money has gone toward many critical projects, including the installation of wayfaring and interpretive signage, restoration work on the historic farmhouse, the purchase of a truck and dump-trailer, and a new Kubota utility vehicle. This year an individual has stepped forward who is willing to match our Wine Raffle ticket sales up to a maximum of $10,000.  The proceeds of this year's raffle will go towards the completion of our traffic-stopping entrance garden.
Packs of six tickets may be purchased for a suggested donation of $25/pack, but more tickets provide a better chance to win. Tickets are available at The Garden Store.
The drawing will take place at FOG's October 2nd meeting. Please mark your calendar and come join FOG in this celebration of the great wines of Mendocino County. Meet and socialize with the Friends and maybe even take home a winning collection of your own. (You don't have to be present to win.)
And remember... You can't win if you don't play!
Overview
Date: Tuesday, October 2, 2018
Schedule Details: Drawing takes place at FOG's Tuesday, October 2nd meeting
Location: Gardens Meeting Room at Mendocino Coast Botanical Gardens
Contact
Contact: Sheelah Meyer
Contact Email: sheelah@hughes.net