T'ai Chi Chih in the Gardens
Fridays at 11:00AM (May, July, and September)
on the MCBG Event Lawn
Please note, rain cancels the class. Please check here for updates.
Join Dyana Sangraal for mindful moving meditation at the Botanical Gardens. T'ai Chi Chih's gentle flowing movements involve no physical contact but rather emphasize a soft, graceful continuity in motion. Each class features 20 easy-to-learn flowing movements. It offers endless opportunities for vibrant health and well-being at any age and physical condition. 
Listen to the birds chirp and the waves crash. Calm your heart. Improve breathing and balance. Regain energy and vitality. Experience peace and joy while having fun and being outdoors!
ADMISSIONS & CLASS FEE
Gardens general admission plus suggested donation $15 - $20 per participant.
Pay admission at the entrance. Members of the Gardens enter for free.
The $15 - $20 suggested donation will be collected by the instructor when you reach the Event Lawn (cash only please).
This class will be held outdoors, so please be prepared for the weather with appropriate layers. Rain, soggy conditions, or temperatures below 40°F cancel – check the Facebook event for cancelation notices. Wear comfortable shoes, preferably with a flexible sole and bring water. The class is recommended for anyone age 10 and up. Plan to arrive at the Gardens' entrance by 10:45AM to allow plenty of time to reach the Event Lawn, the class will begin promptly at 11:00AM. 
ABOUT THE INSTRUCTOR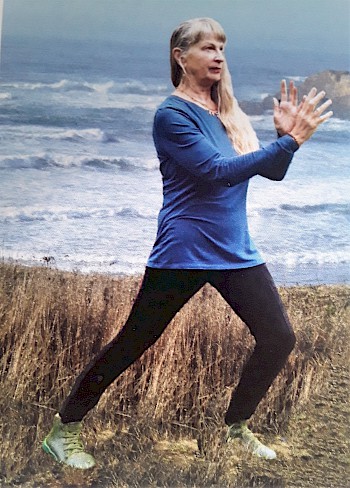 Dyana Sangraal has been practicing and teaching T'ai Chi Chih since she was accredited in 1990 by the originator of the form, Justin Stone. Her practice is enhanced by her love of nature and spending long periods of time on solo vision quests. Other modalities of her study and experience of Chi (life force/vibration) include Reiki, Feng Shui and Personal Color enhancement. She is honored to share T'ai Chi Chih as it has enriched and transformed her life and the lives of her students in so many positive ways.
Overview
Start Date: Friday, May 5, 2023
End Date: Friday, September 22, 2023