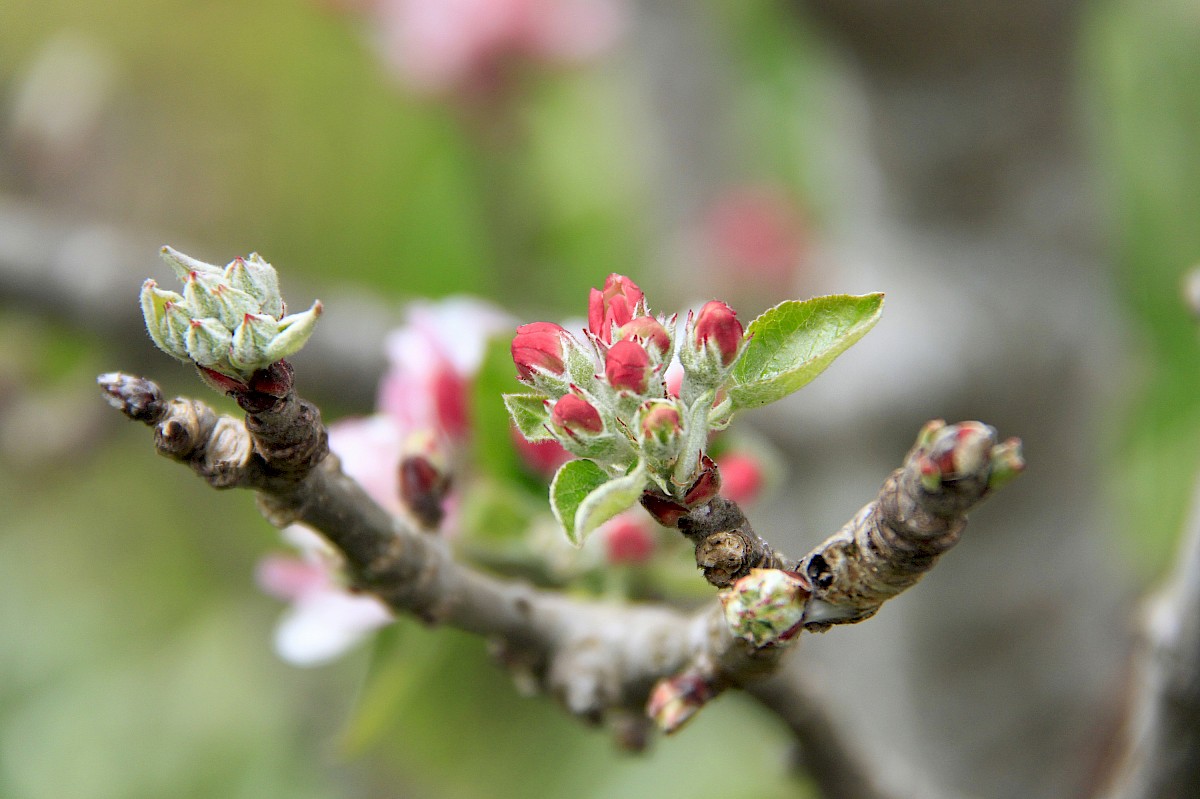 Fruit Tree Grafting
Saturday, March 28, 2020
from 10:00AM to 12:00PM 
in the Education Center and MCBG Orchard 
with MCBG Orchardist Russell Fieber
---
THIS WORKSHOP HAS BEEN CANCELED. 
A full refund will be issued for those who are already registered for this class. Click here for more details.
---
Gain hands-on grafting experience and come away with an apple tree to start (or add to) your own orchard! Grafting is a more advanced gardening technique used to connect two different plants so they grow as one. By grafting fruit trees, you can combine positive attributes that don't naturally occur in a single plant, extend harvest season by adding a number of varieties, enhance disease resistance, and improve cold hardiness. The workshop will include information on grafting, planting, soil, light, irrigation, fencing, future pruning, and disease. 
This workshop will be both indoors and out; wear appropriate clothes for fieldwork. Materials to bring:
Notebook and pen
Pruning shears (sharpened and cleaned)
Clean grafting knife or very sharp, stiff blade knife
Apple scions of apples you want to graft (optional)
About the instructor:
Russell Fieber moved to California in the 80's with little formal gardening experience. After working at the Mendocino Coast Botanical Gardens for a couple years, Russell gained enough experience to venture into landscape gardening. His first job included several large apple trees which had been pruned with pollard cuts (a severe pruning technique that involves lopping off large branches) causing massive die off. In order to repair this ailing orchard, he decided to add to his knowledge base, attending workshops and the annual Seed & Scion Exchange in Boonville. Eventually, he was able to restore entire orchards (as many as 80 trees). Russell is now a seasoned landscaper with 30 years of experience in orchard restoration.
Overview
Date: Saturday, March 28, 2020
Schedule Details: THIS WORKSHOP HAS BEEN CANCELED. A full refund will be issued for those who are already registered for this class.
Location: MCBG Education Center — If you have already paid and signed up, you may park directly at the Education Center located at 18050 Ocean Drive, Fort Bragg (turn right at Mara's Coffee House and continue down Ocean Drive about 1/2 mile, the entrance for the MCBG Education Center will be on the right-hand side of the road)
Payment Information: Class cost is $20 for members and Master Gardeners; $25 for non-members (includes Gardens admission for the day). Payment is due upon sign-up. Please note, all workshop fees are non-refundable unless the workshop has been canceled or rescheduled by the Gardens. Class size is limited to a maximum of 15 participants. Sign up by phoning 707-964-4352 ext. 16 or stop by The Garden Store at Mendocino Coast Botanical Gardens.
Contact
Contact: The Garden Store at MCBG
Contact Phone: 707-964-4352 ext 16