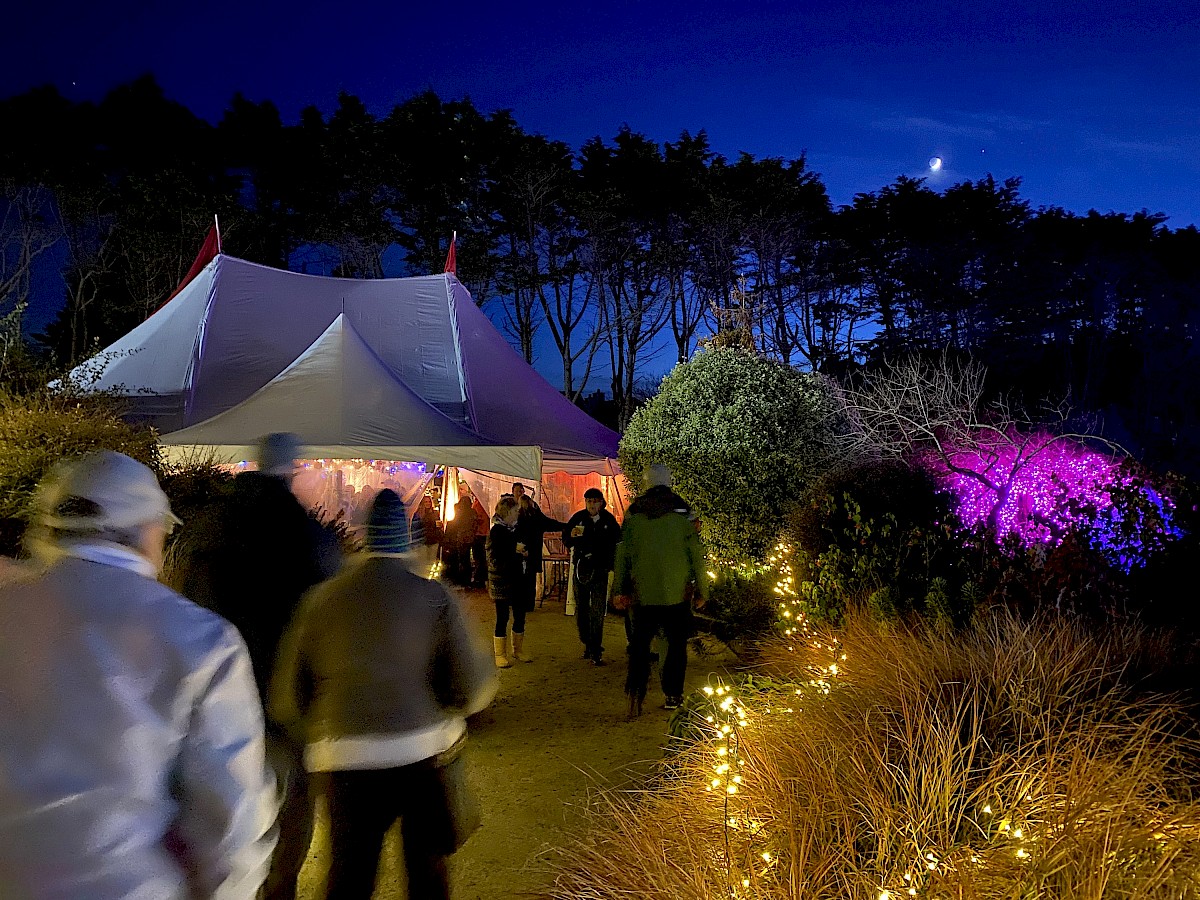 Virtual Festival
The 11th Festival of Lights (FOL) has officially
been postponed until November of 2021.
VIEW OUR VIDEO SCRAPBOOK: Virtual Festival of Lights
This time of year, the horticultural staff at the Mendocino Coast Botanical Gardens usually trade in their pruning shears for colorful strands of lights in preparation for our annual winter fundraiser, Festival of Lights (FOL). However, this year has brought about challenges which have cancelled many of our community's beloved events. In order to help protect the health and safety of our community, we will regretfully be cancelling Festival of Lights this year, but still want to bring some cheer to your 2020 holiday season.
In lieu of the traditional festival, we are bringing the magic of FOL into your living room! With your help, we created a video scrapbook of the lights and cheer from the past ten years. Many thanks to all who shared those colorful images of you and your family enjoying hot cocoa in the dazzling tent, posing with Santa on the plaza, or smiling with the neon jellyfish in front of the Succulent Garden. Photos and videos provided by FOL super-fans Mario Abreu, Molly Barker, Michelle Blackwell, Jamie Campione, Lorna Fox, Mary Gill, Sheila Klopper, Brendan McGuigan, Donna Medley, Ben Nicholson, Cindy Plank, Barb Prichard, Kathy Renderman, Molly Rosenthal, Bob Rutemoeller, Mishele Stettenbenz, Paul Zindel, Pat Zlatunich.
We hope you will make the Gardens part of your fall explorations and holiday festivities. This year's video may be finished, but you can still send videos and photos for us to share next year... Email them to marketing@gardenbythesea.org with details on whom to credit for the images and who is in them. Also, be sure to share and tag them on Facebook and Instagram! #FestivalofLightsMendo
Let's get social!
Overview
Start Date: Friday, November 26, 2021
End Date: Friday, December 31, 2021