Festival of Lights, a Coast Family Tradition.
Celebrate the season of lights . . .
Festival of Lights is better than ever, with new displays, dinner options, wine, beer, hot cocoa and spiced cider, home-baked goodies in our Holiday Treats Café hosted by Friends of the Gardens, a heated tent to sit in and listen to one of our many musical guests, and so much more!
The event will run, rain or shine!

Fridays, Saturdays, and Sundays
November 27th through December 20th, 2015
5:00 pm–7:30 pm
Last entry 7:15 pm  |  Lights out 7:30 pm
Carts are available until 5:30pm. Dress for winter.
We're sorry, no dogs are allowed at Festival of Lights. Also, general admission guest passes are not allowed for entry; an Event Ticket must be purchased.
This community event runs each Friday, Saturday, and Sunday from 5:00pm to 7:30pm November 27 through December 20. Adult tickets are $10 and children age 16 and under are free thanks to the funds raised by our spectacular annual benefit, the Festival of Lights Gala. 
Join us at the Gardens for live music, food, drinks, and fun in the big tent each evening of the Festival. Have an affinity for calories? Our Holiday Sweets Café is filled with all kinds of goodies baked by Friends of the Gardens members. You can also warm up with hot cocoa or cider. This year we have added a special surprise… Santa Claus is coming to town! He will be taking wish-lists on November 27, December 12, and 18. Candy canes are free as usual. 
Outside the tent, an unbelievable show of glittering color draws you into the Gardens. Stroll the twinkling pathways lined with underwater ocean fantasies, shooting stars, and a fire-breathing dragon. This year's new additions are sure to turn heads! Children of all ages can warm up by the campfire and roast a marshmallow or two. 
2015 Sponsorship Levels - For volunteer and sponsorship opportunities, contact the Gardens' Administration office at 707-964-4352 ext. 10. 
---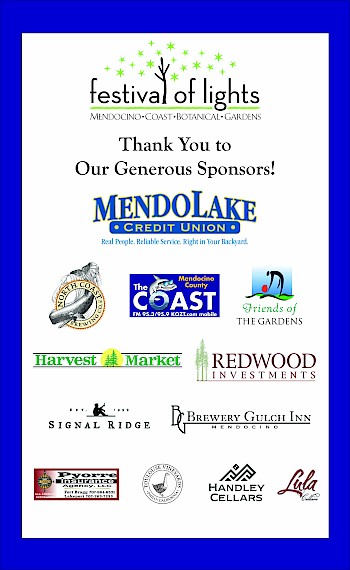 ---
LIVE MUSIC NIGHTLY at Festival of Lights
11/27   Calvary Chapel Choir – Holiday Carols and Choral Music
11/28   Nancy Joy and the Whole Hearted – American
11/29   Sergei Bassehes – Classical Guitar
12/4    The Smokey Jalapeños – Blues, Reggae, Americana, Celtic
12/5    The Dorian May Trio – Jazz
12/6    Fort Bragg High School Choir – Holiday Carols and Choral Music
12/11   The Groovinators – Blues, Jazz, Swing
12/12   The Groovinators – Blues, Jazz, Swing
12/13   Gabriel Yañez Trio – Jazz
12/18   Shug-A-Pea – Eclectic Contemporary
12/19   Pura Vida – Afro-Caribbean Salsa
12/20  Nancy Joy and the Whole Hearted – American
Santa Claus will be visiting Nov 27, Dec 12, and Dec 18!
---

The Festival of Lights Gala is a special occasion offering a more intimate view of this glowing display. The grand event raises funds to allow all children age 16 and under free admission to the 2015 Festival of Lights. 
This year's Gala will be held Thursday, December 3 from 5:30pm to 8:00pm. Enjoy a merry evening including sumptuous hors d'oeuvres, a sizzling main course buffet, and sweet treats provided by local restaurants. Indulge in a selection of Mendocino County's finest wines as you sway to the melodies of The Mendocino String Quartet. This year, guests of the Gala will also enjoy great surprises and prizes! Tickets are limited to this one-of-a-kind event so don't delay.  Click here for more information!
Overview
Start Date: Friday, November 27, 2015
End Date: Sunday, December 20, 2015
Schedule Details: Fridays, Saturdays, and Sundays | 5:00pm–7:30pm | November 27–December 20, 2015
Location: Mendocino Coast Botanical Gardens
Payment Information: $10 adults; children age 16 and under FREE. Tickets are on sale now at The Garden Store, they will also be available for purchase at the door.
Contact
Contact: The Garden Store
Contact Email: info@gardenbythesea.org
Contact Phone: 707-964-4352 ext.16
Special thanks to all of our sponsors, Gardens' staff and volunteers, and community members, all of whom make this event possible.