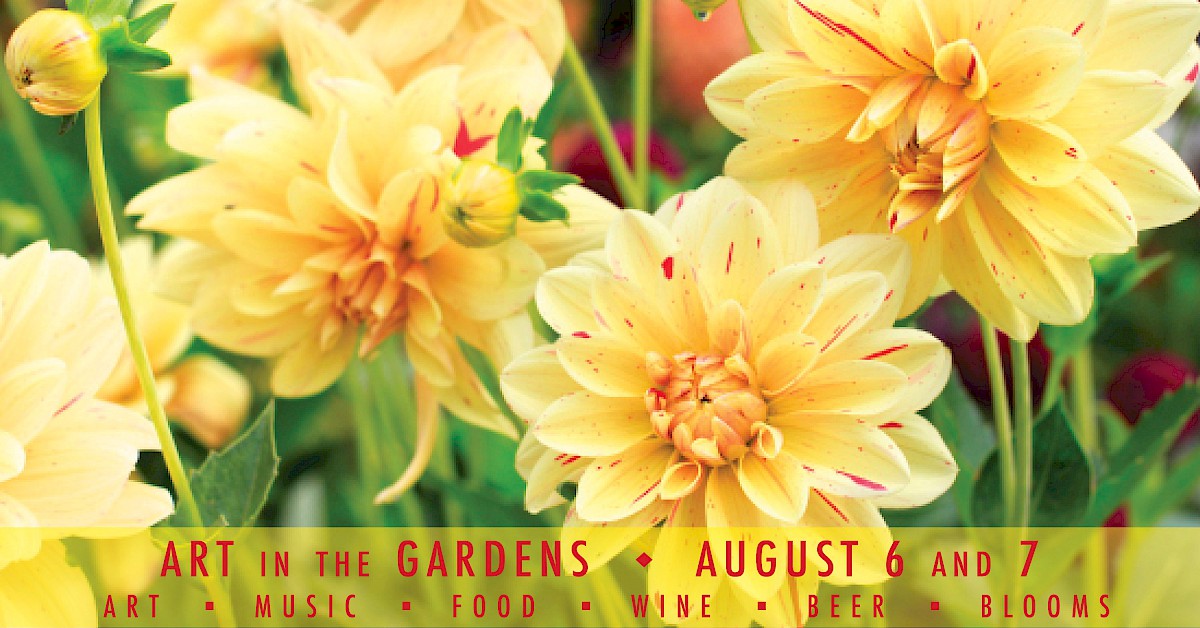 ART – MUSIC – FOOD – DRINKS – BLOOMS
AUGUST 6 and 7, 2022
Featured Artist  |  BUTTON QUINN
We are already looking forward to the 29th annual Art in the Gardens (AIG) at Mendocino Coast Botanical Gardens! Two days of festivities will take place on Saturday, August 6 and Sunday, August 7 from 11:00am to 5:00pm. Join us in a celebration of creative expression, gorgeous gardens, music, food, and drink. In addition to the annual festivities, the weekend will kick off with a party (the Soirée is back!) and a variety of workshops to get your creative juices flowing.
TICKETS
Advanced tickets are required — to purchase, click the green buttons below. Tickets can be changed, but are non-refundable. If you wish to attend both days of the event you will need tickets for each day. Memberships and general admission guest passes are not valid for entry on August 6 or 7; an event ticket must be purchased. All proceeds from this fundraiser event help to support this community event and the Mendocino Coast Botanical Gardens.
AIG 2022 Event Tickets
Saturday and Sunday, August 6 and 7
One-day tickets available. Workshops and Soirée must be registered for separately, see details below.
 TICKETS HAVE SOLD OUT FOR BOTH DAYS!
 
Adults (ages 15 and up)........................... $25
Juniors (ages 6 to 14).............................. $15
Children (ages 5 and under).................... FREE
Members (current MCBG members)........ $15*
*Hey Members, we have a new ticketing program! To receive your discounted rate for event tickets, workshop registration, and any other membership discounts, click the "Member Event Tickets" link and use the form to verify your membership and apply your discounted rate.
LIVE MUSIC
Saturday, August 6
11AM - 1:30PM on the Event Lawn — New Nashville West 
2PM - 5PM on the Event Lawn – The Real Sarahs with Alex de Grassi
Sunday, August 7
11AM - 1:30PM on the Event Lawn — Moon Rabbit 
2PM - 5PM on the Event Lawn – Mama Grows Funk 
FOOD & DRINK
Saturday and Sunday, August 6 and 7
We will have a variety of food and beverages available for purchase on the Event Lawn
Rhody's Garden Café
Big Earls BBQ
Taqueria Ramirez
Cowlicks Ice Cream
A Sweet Affair Patisserie
The Ice Box
Thanksgiving Coffee
Beer available for purchase – sponsored by North Coast Brewing Company
Wine available for purchase – sponsored by Barra of Mendocino, Bergin Sipila Vineyards, Foursight Wines, Frey Vineyards, Graziano Family of Wines, Husch Vineyards, Meyer Family Cellars, Pennyroyal Farm & Vineyard, Toulouse Vineyards, Witching Stick Wines
ART
Saturday and Sunday, August 6 and 7
We will have a variety of art available for purchase on the Event Lawn from a variety of local and regional artists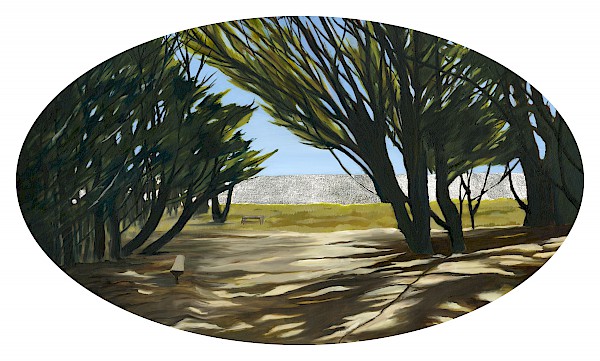 2022 Featured Artwork
Silver Between the Cypress Trees by Button Quinn
Oil on wood panel with silver leaf
$1,700
Angora Web Handweaving  .  Art Explorers  .  Aurora Creations  .  Bahia Beads  .  Bella Bijou Local Jewelry  .  Blooming Lily Studio  .  2022 AIG Featured Artist – Button Quinn  .  Byrds Art Glass  .  Denise De Luise Photography  .  Dia Kimm Art Glass  .  Elliott Little Photography  .  Exultation Arts, the artwork of Deborah Butterfield  .  Flockworks  .  Go Send Love  .  Granite Mountain Arts  .  Happily Ever After Kids Clothing  .  Hilary Eddy*  .  Inger Arts  .  Jacquelyn Cisper  .  John Fisher *  .  John Hewitt  .  John Skaggs Art  .  Just Ducky Mosaics  .  Kathleen Wolf  .  L.A. Hyder Photography  .  Leslie Campbell  .  Ling-Yen Designs  .  Marcus Maria Jung  .  Margi Gomez Guhde  .  Mark Nichols/Diana Simeonova  .  mARTa  .  Marybeth Kampman  .  Mendocino Queen Honey  .  MendoMadrone  .  Mi Distinctive Tastes  .  Misty Leppard  .  MorninGloria's  .  North Coast Brine  .  Noyo Hill Beeswax Wraps  .  Odins Organics  .  Pacific Textile Arts  .  Paradise Creations  .  Patti & Lisa Harney  .  Peter Bailey Designs  .  Picaro Gordo Woodcuts  .  Poonkinney Forge  .  Rebecca Skaggs  .  Rocks & Clocks  .  Sacred Earth Art Labyrinths  .  Salmonberry Prints  .  Sandy Oppenheimer *  .  Spider, Sparkles and Blooms  .  Stella Wells  .  Tiny Blue Studio  .  Valerie Pustorino  .  Viking Pottery  .  Wendell Rickon Rustic Furniture Artist
AIG Summer Soirée
Join us for an exclusive evening amidst the flowers complete with music, hors d'oeuvres, and drinks. This year's Summer Soirée will take place on Friday, August 5. Special Event tickets are required for members and non-members. CLICK HERE for details!
AIG Workshops
There will be a variety of opportunities for you to get creative and nurture your inner artist. Click the linked titles below to learn more about each workshop and register to participate. Class sizes are limited and advanced registration is required.
---
EVENT GUIDELINES
Art in the Gardens will be held rain or shine. Please note, all tickets are non-refundable. Proceeds from this fundraiser event support our non-profit botanical garden. We ask that all visitors consider wearing a mask in our indoor areas and when interacting with our staff. Please read and follow our local Health Order. If you are sick, please stay home. Outside food or beverages are not allowed. No smoking anywhere in the Gardens. Please carpool, parking is free, but limited. Art in the Gardens is an event where photography, audio, and video recording may occur. By entering the event, you consent to be photographed, filmed and/or otherwise recorded. Your entry constitutes your consent to such photography, filming and/or recording and to any use in promotion of Art in the Gardens and the Mendocino Coast Botanical Gardens (MCBG).
---
SPONSORSHIP OPPORTUNITIES
Sponsorship of this major annual fundraiser supports the Gardens and our mission to engage and enrich lives by displaying and conserving plants in harmony with our Northern California coastal ecosystems and to preserve public access to the coast. Please help us to maintain this world-class garden — a place for our community to find inspiration in nature. Partner with us in a celebration of creative expression, gorgeous gardens, music, food, and drink that attracts as many as 1,500 guests each year!
To receive the full recognition of your sponsorship, please join as a sponsor by July 1. For more information or to discuss designing a specific sponsorship package, please contact our Event Coordinator, Jamie Campione events@gardenbythesea.org. 
Overview
Start Date: Saturday, August 6, 2022
End Date: Sunday, August 7, 2022
Location: Event Lawn at Mendocino Coast Botanical Gardens