AIG 2017 Sponsorship Opportunities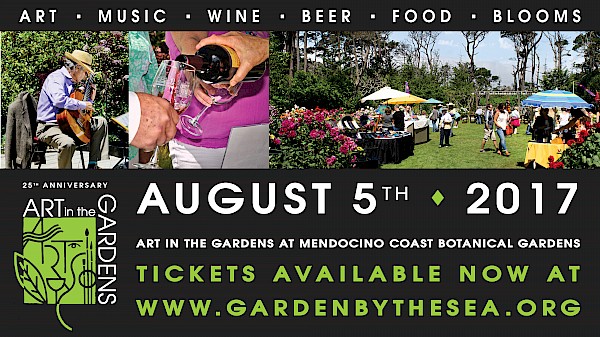 PARTNER WITH US in a celebration of creative expression, gorgeous gardens, music, beer, wine, and food that attracts more than 1,500 guests each year. Mendocino Coast Botanical Gardens is excited to present the 25th anniversary of Art in Gardens on Saturday, August 5, 2017. The premier event on the spectacular Mendocino Coast showcases fine art in many different media. This year's event will include a special focus on "art in action" giving everyone a chance to witness the creative process involved in several mediums. Visitors spend a summer's day strolling through our beautiful garden, meeting California artists while viewing a multitude of art on display and for sale, sipping regional wines and craft beers, listening to wonderful music, and tasting the freshest culinary creations from around Mendocino County. 
Donations of any size are greatly appreciated and will receive recognition on the Gardens' website. For more information or to discuss designing a specific sponsorship package, please contact 707.964.4352 ext 10.
To receive the full recognition of your sponsorship please be advised of the following deadlines:
Thursday, July 6 — Volunteer t-shirts going to print
Wednesday, July 12 — Sponsorship Banners and AIG Program go to print
---
To all of our sponsors of the 25th anniversary of Art in the Gardens, THANK YOU! You are invaluable to our community and the Gardens. We couldn't do it without you...