John Fisher ~ 2017 Featured Artist
This year's Featured Artist is internationally acclaimed sculptor John Fisher. After 20 years in Italy, he has established his studio in Northern California with his wife and artist Sandy Oppenheimer. For Fisher, sculpting is a profoundly philosophical and spiritual act of faith.
FISHER'S PERSPECTIVE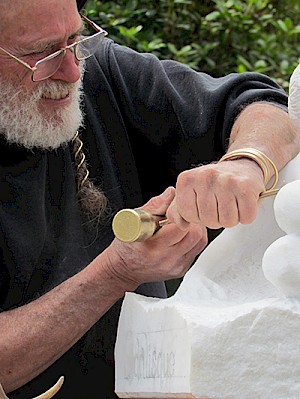 I began my journey at a very young age. By 12, I had a large portfolio of paintings done during travels with my family in Europe. During that trip, I was exposed to much of western art. In high school, I was fortunate to have outstanding art teachers. At 19 I left home and began supporting myself with my art, mostly paintings but some sculpture. A decade later I started to carve marble which led me to Italy. Once there, I had access to the best marble in the world and immediately began carving at a monumental scale. Early successes allowed Sandy and I, who I had met in Mendocino just before leaving the states, to stay for the next 20 years. We had our daughter Allegra, established our own group studio, and produced hundreds of sculptures both large and small. In 2005 we returned to the states to take care of our aging parents and to give Allegra a chance to learn to read and write English. During the next decade, we would concentrate on large public art projects in cities up and down the west coast. Recently I carved a  monumental sculpture in China. At this point, I am carving better than ever before. We still return often to Italy to get more marble and keep our connections alive. I am looking forward to doing a few more large sculpture and slowly transition back to painting, where it all started.
My creative process is extremely intuitive. I am a direct carver, which means I do not work from models or drawings. I begin by working abstractly, taking off approximately 30% of the weight of the block with no idea what I am carving. At that point, images start to appear much the way we see images in bellowing clouds. Subjects present themselves to me. Eventually one of them excites me and I begin pulling out my figures with a technique I call profile carving. I begin by carving the extreme edge. I slowly move around my stone, sculpting all the profile lines until I am back where I started and the image is realized.
To learn more about Fisher and his work visit: http://www.fisheroppenheimer.com/index.html. 
You are invited to the unveiling of the 2017 Art in the Gardens Featured Artwork by sculptor John Fisher on July 15, 2017, CLICK HERE for more details!