Mushroom Walks 2019
Each Monday, November 4 through December 23, 2019 at 1:30 PM
The Gardens is home to more than 150 species of mushrooms during fall and winter on the Mendocino Coast. Mushrooms are the fruiting bodies of some types of fungi. Normally hidden underground, these reproductive structures lie dormant until the rainy season, when they sprout above the earth. We consider mushrooms to be one of our collections, and we are the only botanical garden in the U.S. to label the mushrooms in our garden with both scientific and common names.
Enjoy an identification walk and learn mushroom lore with Naturalist and Mycologist, Mario Abreu each Monday from November 4 through December 23 (Nov 4, Nov 11, Nov 18, Nov 25, Dec 2, Dec 9, Dec 16, Dec 23).
---
Please remember, mushrooms found at Mendocino Coast Botanical Gardens should stay at Mendocino Coast Botanical Gardens... DO NOT PICK OR COLLECT from our botanical collection!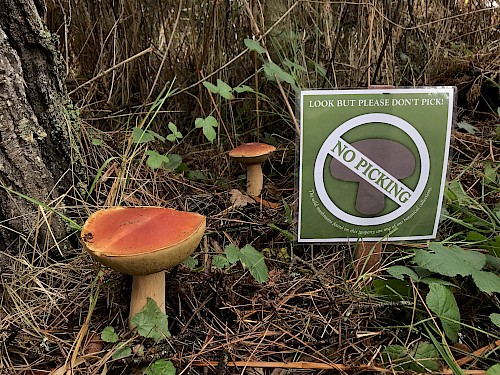 DID YOU KNOW?
MCBG's Mushroom Madness got a shout-out in NEW YORK MAGAZINE!
Overview
Start Date: Monday, November 4, 2019
End Date: Monday, December 23, 2019
Schedule Details: Walks leave from The Plaza at Mendocino Coast Botanical Gardens at 1:30 p.m. each Monday (Nov 4, Nov 11, Nov 18, Nov 25, Dec 2, Dec 9, Dec 16, Dec 23)
Location: Mendocino Coast Botanical Gardens
Instructor: Mycologist, Mario Abreu
Payment Information: Walks are free with regular Gardens admission – https://www.gardenbythesea.org/visit/admissions-hours/
Contact
Contact: The Garden Store
Contact Phone: 707-964-4352 ext. 16