Glittering Lights ~ Sweet Treats ~ Live Music
Each Friday, Saturday, and Sunday
November 23 — December 16, 2018
Doors open at 5:00PM
Last entry is at 7:00PM; lights out 7:30PM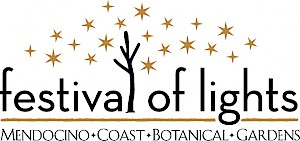 Each winter the Mendocino Coast Botanical Gardens transforms into a spectacular show of glittering color. The 9th Annual Festival of Lights will run rain or shine each Friday, Saturday, and Sunday evening from November 23 through December 16, 2018. Adult tickets are just $10 and children age 16 and under are free thanks to the funds raised by our spectacular annual benefit, the Festival of Lights Gala. This year's Gala will be held on Saturday, November 17, 2018 offering music, drink, and flavorful fare, and a one-of-a-kind preview of the lights — CLICK HERE to receive information about the next Gala as it becomes available. 
The Gardens invites guests to create a holiday tradition and take a stroll along twinkling pathways lined with inventive displays. After dark, the Succulent Garden morphs into a fantastic underwater scene of seaweed and floating jellyfish. A sailing brig that struck nearby reefs back in 1850 is reanimated with dazzling lights amidst the Gardens' nationally recognized Heath and Heather Collection.
Visitors can warm up and wind down in a beautifully decorated tent complete with live music, local craft brews, and some of the best wine Mendocino County has to offer. The Holiday Sweets Café offers hot cocoa, cider, and homemade goodies baked by members of Friends of the Gardens.
TICKETS
Advance tickets are available for purchase NOW through November 23 (online sales ending at 3:00PM on 11/23/18). Tickets for Festival of Lights can be used for any day of the event and do not sell out for any date (with the exception of the Gala preview party on Nov. 17). CLICK HERE to purchase tickets!
FESTIVAL SHUTTLE – NEW THIS YEAR!
Avoid the parking lot hustle and bustle... The parking shuttle will be available each night of the Festival of Lights. The shuttle will pick up from the Mendocino Community College parking lot at 1211 Del Mar Dr, Fort Bragg, CA 95437 beginning at 4:45 PM and take you directly to the Gardens' entrance. The last shuttle pick-up from the College parking lot will be at 6:45 PM.
EVENT GUIDELINES
Dress for winter—the event will run rain or shine! Parking is free but limited, please plan to carpool. Electric mobility scooters will be available on a  first come, first served basis until 5:30PM (no carts after dark for the safety of the operator and all visitors). We are sorry, no dogs are allowed at the Festival of Lights. Mendocino Coast Botanical Gardens is well-known for its pet-friendly nature. However, during this special event, we ask that you please keep your pets (service animals excluded) at home or arrange for doggy daycare. No outside food or beverages allowed. No smoking anywhere in the Gardens. No refunds as all proceeds will be donated to our nonprofit botanical gardens. General admission guest passes are not allowed for entry; an Event Ticket must be purchased as this is a fundraiser for the Gardens.

Special event photography: Festival of Lights is an event where photography, audio, and video recording may occur. By entering the event, you consent to be photographed, filmed and/or otherwise recorded. Your entry constitutes your consent to such photography, filming and/or recording and to any use in promotion of Festival of Lights and the Mendocino Coast Botanical Gardens (MCBG). 
---
LIVE MUSIC Nightly at Festival of Lights:
Small Hat Band — Soul, southern rock, blues, and roots
More coming soon!
Overview
Start Date: Friday, November 23, 2018
End Date: Sunday, December 16, 2018
Schedule Details: ~ Each Friday, Saturday, and Sunday ~ November 23 — December 16, 2018
Location: Mendocino Coast Botanical Gardens
Payment Information: $10 adults; children age 16 and under attend for FREE! Tickets are available on the Gardens' website (see above), at The Garden Store at Mendocino Coast Botanical Gardens, Harvest Market in Fort Bragg, Out of This World in Mendocino, Visit Mendocino in downtown Fort Bragg, or at the door. Tickets purchased in advance are valid for any night of the event.
Contact Phone: 707-964-4352 ext 19
A great big thanks our loving community and to all of our 2017 event sponsors: Sarah Schoeneman and The Brewery Gulch Inn, Harvest Market, Friends of the Gardens, The Coast KOZT, North Coast Brewing Company, Community First Credit Union, Savings Bank of Mendocino County, Witching Stick, Fathers & Daughters Cellars, Fetzer Wine, Foursight Wines, Goldeneye Winery, Jackson Family Wines, Kamstra Construction, Navarro Vineyards, Pennyroyal Farm, B Bryan Preserve, Garcia River Casino, Greenwood Ridge Vineyards, Harbor Lite Lodge, Headlands Coffeehouse, John Calhoun, Pacific Physical Therapy, The Purple Rose Mexican Restaurant, Racines of Fort Bragg/ Spunky Skunk Toy Store, Redfin, Tahto Wines, Air Galore, Anchor Charter Boats, Beachcomber Motel and Spa, Bird Cafe & Supper Club, Coast Hardware, Frog Song Farm, Garden Design magazine, Handley Cellars, Harbor RV Park, Husch Vineyards, Mendocino Garden Consultants, Pacific Horticulture magazine, Rhoads Auto Parts, Sharon Gieras, and Sonoma Canopy Tours