Glittering Lights ~ Sweet Treats ~ Live Music
~ Each Friday, Saturday, and Sunday ~
November 23 — December 16, 2018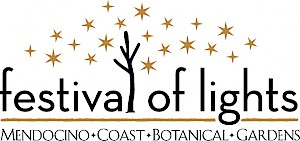 Each winter the Mendocino Coast Botanical Gardens transforms into a spectacular show of glittering color. The 9th Annual Festival of Lights will run rain or shine each Friday, Saturday, and Sunday evening from November 23 through December 16, 2018. Adult tickets are just $10 and children age 16 and under are free thanks to the funds raised by our spectacular annual benefit, the Festival of Lights Gala (Saturday, November 17, 2018).
The Gardens invites guests to create a holiday tradition and take a stroll along twinkling pathways lined with inventive displays. After dark, the Succulent Garden morphs into a fantastic underwater scene of seaweed and floating jellyfish. A sailing brig that struck nearby reefs back in 1850 is reanimated with dazzling lights amidst the Gardens' nationally recognized Heath and Heather Collection.
Visitors can warm up and wind down in a beautifully decorated tent complete with live music, local craft brews, and some of the best wine Mendocino County has to offer. The Holiday Sweets Café offers hot cocoa, cider, and homemade goodies baked by members of Friends of the Gardens.
---
Add me to the invite list for Gala 2018! CLICK HERE to receive information about the next Gala as it becomes available. 
Overview
Start Date: Friday, November 23, 2018
End Date: Sunday, December 16, 2018
Schedule Details: ~ Each Friday, Saturday, and Sunday ~ November 23 — December 16, 2018
Location: Mendocino Coast Botanical Gardens
Contact Phone: 707-964-4352 ext 19
A great big thanks our loving community and to all of our 2017 event sponsors! Our Generous 2017 Sponsors: Sarah Schoeneman and The Brewery Gulch Inn, Harvest Market, Friends of the Gardens, The Coast KOZT, North Coast Brewing Company, Community First Credit Union, Savings Bank of Mendocino County, Witching Stick, Fathers & Daughters Cellars, Fetzer Wine, Foursight Wines, Goldeneye Winery, Jackson Family Wines, Kamstra Construction, Navarro Vineyards, Pennyroyal Farm, B Bryan Preserve, Garcia River Casino, Greenwood Ridge Vineyards, Harbor Lite Lodge, Headlands Coffeehouse, John Calhoun, Pacific Physical Therapy, The Purple Rose Mexican Restaurant, Racines of Fort Bragg/ Spunky Skunk Toy Store, Redfin, Tahto Wines, Air Galore, Anchor Charter Boats, Beachcomber Motel and Spa, Bird Cafe & Supper Club, Coast Hardware, Frog Song Farm, Garden Design magazine, Handley Cellars, Harbor RV Park, Husch Vineyards, Mendocino Garden Consultants, Pacific Horticulture magazine, Rhoads Auto Parts, Sharon Gieras, and Sonoma Canopy Tours