Glittering Lights ~ Sweet Treats ~ Live Music
~ Each Friday, Saturday, and Sunday ~
November 24 — December 17, 2017
Doors open at 5:00pm  |  Last entry is at 7:15pm; lights out 7:30pm
Each winter the Mendocino Coast Botanical Gardens transforms into a spectacular show of glittering color. The 8th Annual Festival of Lights will run rain or shine each Friday, Saturday, and Sunday evening from November 24 through December 17.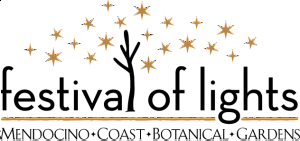 The Gardens invites guests to create a holiday tradition and take a stroll along twinkling pathways lined with inventive displays. After dark, the Succulent Garden morphs into a fantastic underwater scene of seaweed and floating jellyfish. A sailing brig that struck nearby reefs back in 1850 is reanimated with dazzling lights amidst the Gardens' nationally recognized Heath and Heather Collection. A visit to Santa's workshop will delight the little ones and give families a chance to snap a keepsake photo with Santa Claus on select nights. 
Visitors can warm up and wind down in a beautifully decorated tent complete with live music, local craft brews, and some of the best wine Mendocino County has to offer. The Holiday Sweets Café offers hot cocoa, cider, and homemade goodies baked by members of Friends of the Gardens.
We have added a SECOND ENTRANCE for those who have pre-purchased tickets for speedy entry. You must have your tickets in hand to use the second entrance which will be located at the south end of the main parking lot... so get your tickets today! Tickets are will be available for purchase in early October at The Garden Store at Mendocino Coast Botanical Gardens, Harvest Market in Fort Bragg, Out of This World in Mendocino, and on the Gardens' website! 
Please note: Electric carts will be available until 5:30pm (no carts if raining). Dress for winter—the event will run rain or shine! Parking is free but limited, please plan to carpool. We are sorry, no dogs are allowed at Festival of Lights. General admission guest passes are not allowed for entry; an Event Ticket must be purchased as this is a fundraiser for the Gardens.
More details and a schedule of musical acts coming soon...
---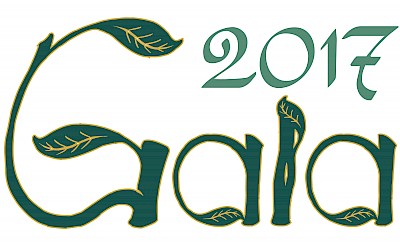 Last year's Gala was a truly wonderful evening. On the last evening in November, the crisp darkness of the night air became illuminated by the warmth and laughter of a gorgeous crowd dressed in their best black and white attire. Guests were greeted with a sparkling glass of bubbly as they gazed about the décor of elegant lanterns, illuminated manzanita branches, and a giant sparkling chandelier – all in a scheme of black and white. The center of the tent displayed a delicious buffet of gourmet appetizers including seared ahi tuna nachos, sausage and cheese stuffed crimini mushrooms, Mediterranean lavash wraps, and much more.
Shortly after six o'clock, the Mendocino String Quartet took to the stage, serenading the crowd with soothing melodies. Guests strolled under the stars, glass of wine in hand, for an exclusive glimpse at the light displays outside. The Gloriana Carolers added a spark of holiday jubilation as guests moved toward the dessert table which showcased a stunning display of black and white candies, macarons, and other treats to delight the senses. In a celebration of light in the dark, last year's Festival of Lights Gala was truly the place to be.
Just wait until you see what we have in store for this year's event...
Would you like an invite to the FESTIVAL OF LIGHTS GALA on Wednesday, November 29, 2017? Click here to receive an invitation!
---
PARTNER WITH US at the Gardens this holiday season, where beautiful blooms and crashing waves combine with good cheer and dazzling lights for an unforgettable experience. Festival of Lights is a 12–night event and Coast holiday tradition. Last year alone, the event hosted over 7,000 visitors, making it one of the most well-attended events on the Mendocino Coast!
---
Overview
Start Date: Friday, November 24, 2017
End Date: Sunday, December 17, 2017
Schedule Details: ~ Each Friday, Saturday, and Sunday ~ November 24 — December 17, 2017
Location: Mendocino Coast Botanical Gardens
Payment Information: $10 adults; children age 16 and under FREE . Tickets will be available for purchase in early October!
Partner with us at the Gardens this holiday season, where beautiful blooms and crashing waves combine with good cheer and dazzling lights for an unforgettable experience.
Special thanks to all of our sponsors, Gardens' staff and volunteers, and community members, all of whom make this annual event possible.