Art in the Gardens 2019
Art – Music – Wine – Beer – Food – Blooms
Saturday, August 3, 2019
11:00AM to 5:00PM
Featured Artist  |  NAOMI MARINO
We are already looking forward to the 27th annual Art in the Gardens (AIG) at Mendocino Coast Botanical Gardens! Set amidst the spectacular background of summer floral displays, the day-long juried art event will be held on Saturday, August 3rd.
Join us in a celebration of creative expression, gorgeous gardens, music, beer, wine, and food. Over the past quarter of a century, AIG has showcased extraordinary creations such as ceramics, glass, paintings, sculpture, textiles, and woodworking. Spend a day strolling 47 acres of natural beauty from the manicured gardens and fern-ringed ponds at the Gardens' entrance to the wildflower-strewn bluffs at ocean's edge. Mingle with artists amongst dramatic summertime blooms. Sip an array of wines and craft brews from around Mendocino County.

You can purchase tickets at the advance sale price HERE, at The Garden Store at Mendocino Coast Botanical Gardens, or Harvest Market in Fort Bragg.
General admission tickets $20 in advance or $30 at the door; $5 junior admission tickets ages 6 to 16; Free for children age 5 and under
$25 additional for wine tasting – Includes complimentary wine glass and tastings from 10 wineries spread throughout the Gardens
Our online ticket sales closed at 4:00PM on Friday, August 2nd so that we can process orders. Tickets can still be purchased at the pre-sale price through August 2nd at The Garden Store (707-964-4352) at MCBG and at Harvest Market in Fort Bragg. PLEASE NOTE: General admission guest passes are not allowed for entry on this day; an event ticket must be purchased and all ticket sales are non-refundable as this is a fundraiser for the Gardens.
---
2019 FEATURED ARTIST – Naomi Marino
This year's Featured Artist, Naomi Marino, is a classically trained representational oil painter and charcoal artist based in Sonoma County. She studied art in Italy, and has taught painting and drawing in both academic and informal settings. Her work has earned various awards, scholarships, and an international clientele.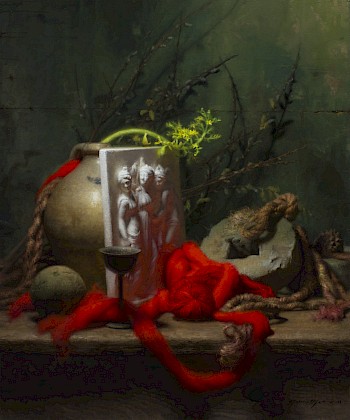 Consanguinity
Oil on panel – 20" x 24" unframed
$5,800
Marino explains: "I paint directly from life, so a good deal of preparation goes into arranging a set-up. My first concern is to create an interesting arrangement of abstract light and dark shapes, establishing rhythm, variety, and color harmony. It's important to concoct a strong sense of movement as well as a play between foreground and background. 
The focal point of this still life is a cast fragment of a relief sculpture depicting muses of classical antiquity dancing. It was created in the early 1800s by Bertel Thorvaldsen for the villa of the Danish ambassador to Naples, Baron von Schubart. The nine muses of Classical Greece personified science, music, visual arts, literary arts, and dramatic arts. These three are Clio (history), Melpomene (tragedy), and Thalia (comedy).
While creating this painting, I reflected on the irrefutably close bond we, as human beings, have to nature. Nature has nourished and sustained us since ancient times, supplying grain, wool, timber, the basic necessities to ensure our life's blood; it continues to be an inspiration for artists, storytellers, engineers, and innovators alike. In recent years, when it is becoming increasingly clear that the earth's resources are finite and that its equilibrium is not guaranteed, I feel drawn to illustrating the beauty of the bond we have with the Earth, and our responsibility to act as stewards thereof. Consanguinity, as a title, underlines the close relationship we have with nature, a kinship of critical interdependence."
---
Below are some of the things you can expect at AIG 2019
SILENT AUCTION
Add a stunning focal point to your garden! This year's silent auction includes a range of handcrafted items built exclusively for Art in the Gardens 2019. CLICK HERE for a sneak peek of some of the brilliantly crafted creations.
LIVE MUSIC
Acoustic Serenade — Rich, warm, rustic acoustic
Christopher Cisper — Original tap-style guitar; classical and jazz blend
CHUCK T. — Classic rock, country, folk, and blues
Dorian May Trio — Jazz
Helene Eve & Steve Crowningshield— Acoustic guitar, eclectic stylings, and tasty tunes
The Hot Club of Comptche— Gypsy jazz and swinging tunes
Matt Westmoreland — Bluegrass and honky-tonk
Plaid Menagerie — Scottish and Irish music
Shuga — Eclectic contemporary
Stephen Cohen — Original creative music with original homemade instruments, voice, and guitar

WINE TASTING (Purchase tasting tickets here)
Bee Hunter Wine
Bergin-Sipila Vineyards
Brassfield Estate Winery
Frey Vineyards
Graziano Family of Wines
Maple Creek Winery
McNab Ridge Winery
Murder Ridge Winery 
Powicana Farm
Terra Sávia Winery

BEER
CULINARY VENDORS
American.Eats.CA
Cowlick's Ice Cream
Croux & Company
GG's Thai Cafe
Mara's Coffee House
Rhody's Garden Café
Sugar Coated Catering
Thanksgiving Coffee Company
The Q
The Tow-ster Portable Bar
---
EVENT GUIDELINES
Art in the Gardens will be held rain or shine. No refunds as all proceeds will be donated to our nonprofit botanical gardens. No outside food or beverages allowed. No smoking anywhere in the Gardens. Parking is free but limited, please plan to carpool. We are sorry, no dogs are allowed at Art in the Gardens. Mendocino Coast Botanical Gardens is well-known for its pet-friendly nature. However, during this special event, we ask that you please keep your pets (service animals excluded) at home or arrange for doggy daycare. General admission guest passes are not allowed for entry; an event ticket must be purchased as this is a fundraiser for the Gardens. Art in the Gardens is an event where photography, audio, and video recording may occur. By entering the event, you consent to be photographed, filmed and/or otherwise recorded. Your entry constitutes your consent to such photography, filming and/or recording and to any use in promotion of Art in the Gardens and the Mendocino Coast Botanical Gardens (MCBG).
---
CALL FOR  MUSICIANS, WINERIES, BREWERIES, & FOOD VENDORS
If you are interested in participating in the 27th annual Art in the Gardens as a musician, winery, brewery, or food vendor please contact Jamie Campione at events@gardenbythesea.org. 
SPONSORSHIP OPPORTUNITIES
Sponsorship of this major annual fundraiser supports the Gardens and our mission to engage and enrich lives by displaying and conserving plants in harmony with our Northern California coastal ecosystems and to preserve public access to the coast. Please help us to maintain this world-class garden — a place for our community to find inspiration in nature. Partner with us in a celebration of creative expression, gorgeous gardens, music, beer, wine, and food that attracts as many as 1,500 guests each year!
To receive the full recognition of your sponsorship, please join as a sponsor by May 20. For more information or to discuss designing a specific sponsorship package, please contact Jamie at 707–964–4352 x 19. CLICK HERE to view our 2019 Underwriting & Sponsorship Opportunities Packet.
Overview
Date: Saturday, August 3, 2019