Mushroom Identification for Beginners

This workshop is offered on three Saturdays, choose your preferred date to attend: 
Nov 28, Dec 12, or Dec 19, 2020
from 10:00am to 3:30pm (Lecture 10–1:30pm; lunch 1:30–2:00pm; Field ID Walk 2:00–3:30pm)
Learn the basic taxonomic identifying features that distinguish mushrooms from each other, where each unique mushroom species can be found, when they can be found, and the myths associated with them. This workshop consists of a lecture, hands-on look of mushrooms collected and displayed for each workshop, and a field walk to find mushrooms associated with the Mendocino Coast Botanical Gardens' native plant communities. Identification tools will be provided at the workshop to key mushrooms.
Class size is limited*; sign up by phoning in your payment at 707-964-4352 ext. 16 or reserve your spot in person at The Garden Store at MCBG. *Each workshop is limited to 20 participants. A waiting list of up to five attendees will be kept in the event of a cancellation. If there is a cancellation by 4:00pm on the Friday before the class, people on the waitlist will be contacted by store staff of the opening.
The Mushroom ID Workshops will all be held in the new Education Center and historic farmhouse near the Vegetable Garden. When attending a workshop — if you have already paid and signed up — you may drive and park directly at the Education Center entrance at 18050 Ocean Drive, Fort Bragg (turn right at Mara's Coffe House, the entrance will be on the right-hand side of the road). 
Please remember, mushrooms found at Mendocino Coast Botanical Gardens should stay at Mendocino Coast Botanical Gardens... do not pick or collect!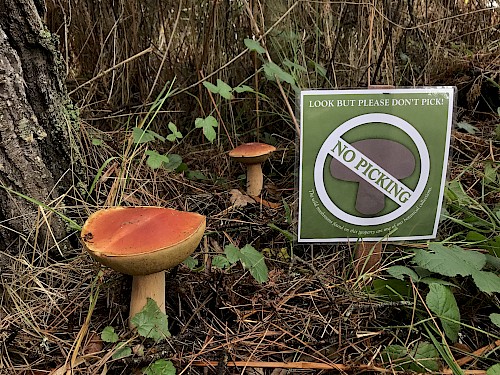 ---
Looking for a way to keep track of all of the wonderful workshops and events at Mendocino Coast Botanical Gardens?
Subscribe to the MCBG Events Feed on Facebook-www.facebook.com/mendocinocoastbotanicalgardens/events... and sign up for our "Bloom Blast", it is chock-full of info about the Gardens, our beautiful blooms, and upcoming events!
Overview
Start Date: Saturday, November 28, 2020
End Date: Saturday, December 19, 2020
Location: Education Center at Mendocino Coast Botanical Gardens – 18050 Ocean Drive
Instructor: Naturalist and Mycologist, Mario Abreu
Payment Information: Class cost is $25 for members and Master Gardeners; $35 for non-members (includes Gardens admission for the day). Payment is due upon sign-up. Please note, all workshop fees are non-refundable unless the workshop has been canceled or rescheduled by the Gardens. Please reserve space for your preferred date by phoning 707-964-4352 ext. 16 or stop by The Garden Store at MCBG.
Contact
Contact: The Garden Store
Contact Phone: 707-964-4352 ext 16