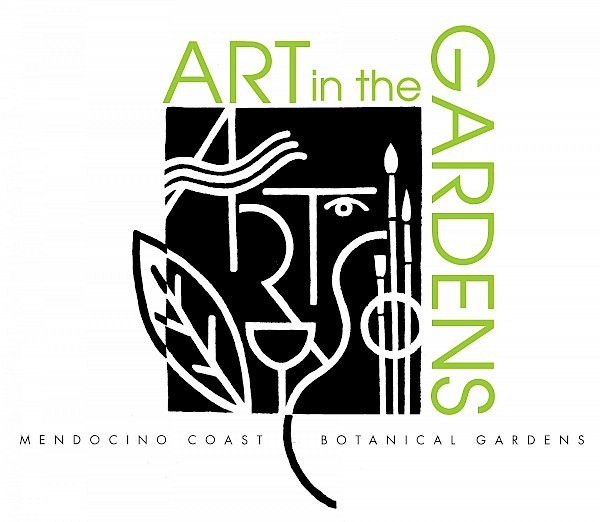 Art in the Gardens 2018
Art – Music – Wine – Beer – Food – Blooms
Saturday, August 4th, 2018
Featured Artist  |  SANNA KOSKI
We are already looking forward to the 26th annual Art in the Gardens (AIG) at Mendocino Coast Botanical Gardens! Set amidst the spectacular background of summer floral displays, the day-long juried art event will be held on Saturday, August 4th. 
Join us in a celebration of creative expression, gorgeous gardens, music, beer, wine, and food. Over the past quarter of a century, AIG has showcased extraordinary creations such as ceramics, glass, paintings, sculpture, textiles, and woodworking. Spend a day strolling 47 acres of natural beauty from the manicured gardens and fern-ringed ponds at the Gardens' entrance to the wildflower-strewn bluffs at ocean's edge. Mingle with artists amongst dramatic summertime blooms. Sample an array of wines from around Mendocino County. Wine tasting tickets may be purchased on the Gardens' website or at the event. Craft brews will be available for purchase with complimentary tastings on the Event Lawn. Culinary vendors will be spread throughout the Gardens. See below for a list of the participating musicians, wineries, breweries, and culinary vendors.
TICKETS AVAILABLE NOW!
Advance tickets are available for purchase online, at The Garden Store, Harvest Market in Fort Bragg, and Out of This World in Mendocino. 
~All tickets are non-refundable~
General admission tickets $20 in advance or $30 at the door ($5 junior admission tickets ages 6 to 16; Free for children under 5)
$25 additional for wine tasting (includes complimentary keepsake tasting glass)
LODGING SPECIALS
Emerald Dolphin Inn is offering a 10% discount on a 2-night stay for anyone attending Art in the Gardens. Call them today to take advantage of the special rate 866-964-6699.
EVENT GUIDELINES
Art in the Gardens will be held rain or shine. No refunds as all proceeds will be donated to our nonprofit botanical gardens. No outside food or beverages allowed. No smoking anywhere in the Gardens. Parking is free but limited, please plan to carpool. We are sorry, no dogs are allowed at Art in the Gardens. General admission guest passes are not allowed for entry; an event ticket must be purchased as this is a fundraiser for the Gardens.
---
SPONSORSHIP AND UNDERWRITING OPPORTUNITIES
Partner with us in a celebration of creative expression, gorgeous gardens, music, beer, wine, and food that attracts as many as 1,500 guests each year. Click here for more details!
---
2018 FEATURED ARTIST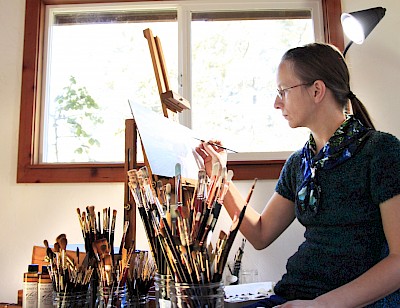 This year's Featured Artist is realist painter Sanna M. Koski. Sanna has lived in Fort Bragg, California, since birth. "As a youth, admiring the beautiful realistic landscapes and portrait paintings I saw in galleries, I knew that that was how I wanted to paint: in detailed realism. I worked on my skills through frustration and joy, fascinated by the artistic process, determined to improve. Although I paint my studio pieces mostly from photographs, I have been enjoying live portrait and figure art groups for well over a decade, and practice the tradition of painting landscape studies outdoors on location in oil and watercolor. I strive to capture the mood, the unique beauty and the mystery of a person or place.
---
Below are some of the things you can expect at AIG 2018... MORE TO COME!
LIVE MUSIC
Buck-Thrifty — Infectiously eccentric Americana
CHUCK T. — Classic rock, country, folk, and blues
Dorian May Trio — Jazz
Erin Brazill and The Brazillionaires — Noirish pop
Gabriel Yañez Trio — Jazz
Tony Roach — Pop and jazz
WINE TASTING (tasting tickets required; purchase in advance or day of the event)
Bee Hunter Wine
Frey Vineyards
Graziano Family of Wines
Maple Creek Winery
McNab Ridge Winery
Murder Ridge Winery
Powicana Farm
Terra Sávia Winery
BEER AVAILABLE FOR PURCHASE (plus free tastings on the Event Lawn)
North Coast Brewing Company
Sierra Nevada Brewing Co.
CULINARY VENDORS
A Sweet Affair
Cowlick's Ice Cream
Croux & Company
Los Gallitos Mexican Restaurant
Mara's Coffee House
Pilón Kitchen
Rhody's Garden Café
Sugar Coated Catering
Tenadam Catering
Overview
Date: Saturday, August 4, 2018
We are now accepting applications for Art in the Gardens 2018! Applications for this juried fine arts event will be accepted now through April 13, 2018. Jurying will take place at the end of April and we will send notifications shortly after.