Auction & Featured Artist Reception
Saturday, August 7, 2021
from 5PM to 7:30PM 
in the MCBG Perennial Garden
Not many get to enjoy the golden glow of our Perennial Garden at dusk. Join us for an exclusive evening amidst the flowers complete with music, hors d'oeuvres, drinks, dance, and unique garden art. See this year's Art in the Gardens featured artwork and learn a bit about Featured Artist, Carolyn Zeitler's process. Support the Gardens and add a stunning focal point to your garden. This year's silent auction will feature original garden art, furniture, and décor. Savor the evening glory of our Perennial Garden enhanced by birdsong and the acoustic melodies of Jason Moore. The Mendocino Dance Project will dazzle at dusk with a dynamic performance.
Tickets are $100 per person and include hors d'oeuvres, wine, beer, and entertainment. Wear attire that will inspire... dress to express! 
All proceeds from this fundraiser event help to support the Mendocino Coast Botanical Gardens. Please note, these special event tickets are non-refundable unless the occasion has been canceled or rescheduled by the Gardens. Tickets for the Saturday Soirée are limited and will sell quickly... PURCHASE TICKETS TODAY!
AUCTION
Auction item previews coming soon...
ENTERTAINMENT
Acoustic folk-rock by Jason Moore
Performance by the Mendocino Dance Project
FOOD & DRINK
Charcuterie and dessert sponsored and provided by Harvest Market
Craft brews sponsored by North Coast Brewing Company
More details to be announced...
---
This year's Featured Artist, Carolyn Zeitler, graduated from San Jose State University in 1976 with a degree in ceramics and weaving. Carolyn started making baskets while she worked as a U.S. Forest Service fire look-out in Big Sur, California. These baskets were created using the native Coulter Pine needles that grow in the Los Padres National Forest. Since then, Zeitler's baskets have evolved as a kind of marriage, combining her two loves – clay and fiber.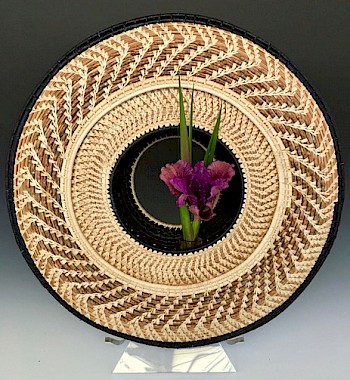 2021 AIG Featured Artwork
Passing Through by Carolyn Zeitler
Coulter Pine Needles and Raffia – 14" x 13"
$1,500
Overview
Date: Saturday, August 7, 2021