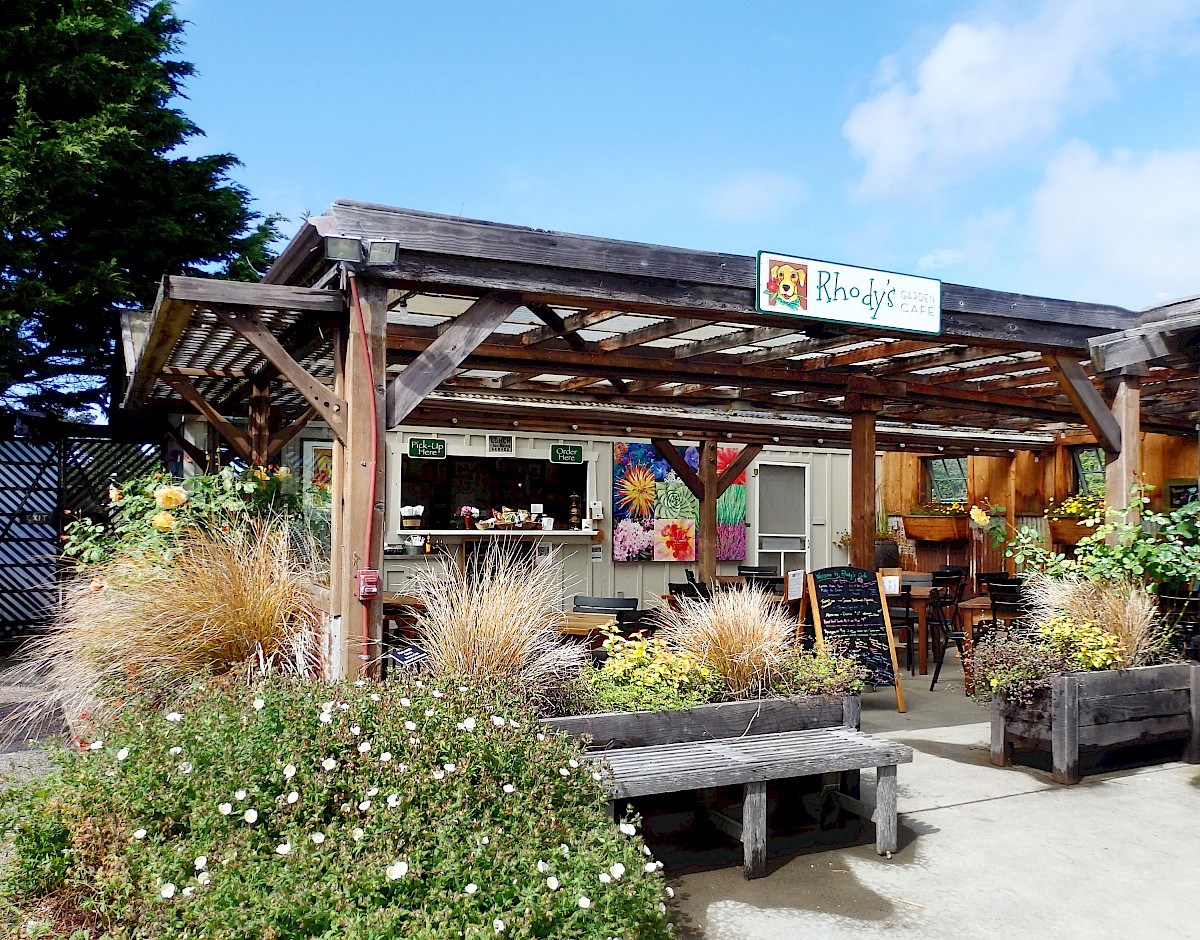 Rhody's Garden Café Staff
Rhody's Garden Café at the Mendocino Coast Botanical Gardens (MCBG) is seeking a part-time seasonal Cafe Staff Member who will perform a variety of duties in the kitchen/Café counter to ensure an excellent customer experience. The Café serves soups and salads using locally sourced, organic produce and meats when possible — including produce from our own organic demonstration vegetable garden. The Café also serves drinks, desserts, and daily specials that are innovative and delicious. Come be part of a fun team working in beautiful surroundings!
CAFÉ STAFF
REPORTS TO: Café Manager
POSITION: Seasonal (mid-Apr through mid-Sep); Salary $19/hr
HOURS: Part-time (15 - 25 hrs/ week); flexible daytime schedule
TO APPLY: Please submit an Application for Employment (available at the admissions desk or at gardenbythesea.org/about/employment) to Café Manager, Lynn Derrick, at cafe@gardenbythesea.org.
RESPONSIBILITIES
Provide the highest quality service to all guests and in every transaction
Prepare menu items according to recipes and assist with food preparation as needed
Assure that Café is fully stocked and tidy, inform Café Manager of low stock levels 
Operate cash register, give correct change, complete day-end procedures for cash register and credit card machine
Clean relevant dining, service, preparation and storage areas using correct chemicals
Keep all trash containers in Café free from overflow
Project a professional image, ensure correct grooming and proper clothing attire
Ensure that the correct closedown procedure is followed, i.e., everything left clean, tidy and secure, ready for the next days' service, per closing procedures
Maintain a flexible schedule and availability to work special events and times of peak visitation
HEALTH AND SAFETY
Keep up to date with all health and safety procedures, completed Food Service Worker certification
Ensure all accidents are recorded in the relevant accident books
Use the correct handling and lifting procedures as outlined in employee policies
Ensure all tasks are carried out in accordance with the café's health, hygiene, quality, and safety standards
OCCASIONAL DUTIES
Provide cover in the absence of coworkers
Undergo training courses and attend meetings when necessary
Be prepared to challenge and change work methods and procedures to ensure the smooth running of the department as instructed by the Café Manager
ABOUT MENDOCINO COAST BOTANICAL GARDENS:
The Mendocino Coast Botanical Gardens is a nonprofit botanical garden with a unique mixture of manicured gardens and wild habitats located along the Pacific Ocean. Each year, more than 100,000 people experience the wonder of nature in all its seasons at the Mendocino Coast Botanical Gardens. This nonprofit botanical destination is a place for guests to be inspired and experience the simple joy of a natural setting. The Gardens' work environment is built on teamwork and making certain our guests have an inspiring experience.