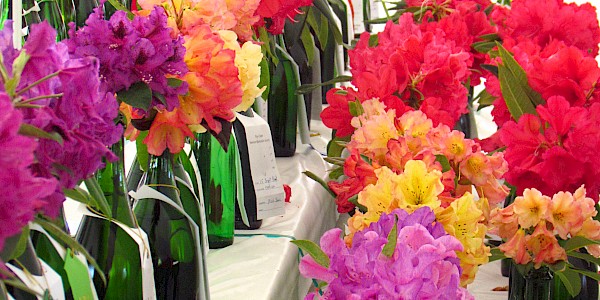 40th Annual John Druecker Memorial Rhododendron Show
CALIFORNIA'S LARGEST RHODODENDRON SHOW!
April 22 and 23, 2017
Mendocino Coast Botanical Gardens co-sponsors the event with the Noyo Chapter of the American Rhododendron Society. The show will feature a cascade of vibrant rhododendrons, raffles, a silent auction, people's choice awards, educational displays, food, and more!
Stay tuned for more information...
Overview
Start Date: Saturday, April 22, 2017
End Date: Sunday, April 23, 2017
Sponsored By American Rhododendron Society's Noyo Chapter
The Noyo Chapter of the American Rhododendron Society has been a local non-profit organization for over 38 years. Their stated mission is to promote the study and culture of rhododendrons and to stimulate interest in rhododendrons by any appropriate means, including the holding of frequent meetings of members and education of the public with rhododendron shows. Their locale is also of utmost importance in preserving the rhododendron species. Although these plants grow in few places worldwide, they thrive in the favorable climate of the Mendocino Coast. The area spanning Eureka to Fort Bragg is the largest production center of hybrid rhododendrons in California.
Sponsor Website: http://www.noyochapterars.com/