40th Annual John Druecker Memorial Rhododendron Show
CALIFORNIA'S LARGEST RHODODENDRON SHOW!
April 22 and 23, 2017
9:00am to 5:00pm
Each year, the Noyo Chapter of the American Rhododendron Society (ARS) partners with Mendocino Coast Botanical Gardens to showcase some of the best rhody specimens on the west coast. The 40th Annual John Druecker Memorial Rhododendron Show will be held at the Mendocino Coast Botanical Gardens on Saturday, April 22 and Sunday, April 23. The juried show is the largest in California with more than 700 entries entered annually filling the big tent with cascades of color and fragrance.
The Rhododendron Show is free to attend and open to the public from 9:00am to 5:00pm on Saturday and Sunday. In addition to hundreds of individual flower entries, there will be plants, bonsai, photos, floral arrangements, raffle gifts, educational displays, and a silent auction. Rhody's Garden Café will be open both days, serving snacks, lunch, and ice cream. A large selection of rhododendrons and other plants will be available for purchase in the big tent and at Nursery on the Plaza. Local growers and Noyo Chapter ARS members will be on hand to answer questions and discuss the best plants for your garden.
Mendocino Coast Botanical Gardens will be open to visitors during the Rhododendron Show (regular admission rates apply) with memberships to the Gardens on sale at a 10% discount all weekend long. The Gardens is home to one of the nation's largest collections of rhododendrons—many hybridized on the Mendocino Coast—and they promise to fill the formal gardens and woodlands with riotous color. The Gardens' Rhododendron Collection includes over 122 species and 315 taxa. More than 1,000 rhododendrons can be seen blooming throughout the Gardens from early spring until June!
ENTER THE SHOW
All rhody growers are welcome to enter their best trusses for judging. Those wishing to participate should bring their entries to the big white tent at the Mendocino Coast Botanical Gardens on April 20 from 5:00pm to 7:00pm or April 21 from 9:00am to 1:00pm. Chapter members will be available to assist in filling out entry forms. Judges will award ribbons and trophies to top entries in a wide range of categories. Please visit  www.noyochapterars.com for more information on entry rules and procedures.
NEED A PLACE TO STAY RHODY SHOW WEEKEND?
Dennen's Victorian Farmhouse has the getaway package for you...  more details
---
A number of entries from the Mendocino Coast Botanical Gardens own Rhododendron Collection received accolades at the 39th Annual John Druecker Memorial Rhododendron Show. One of MCBG's entries, a big leaf hybrid (pictured above), was selected as the 2016 Best of Show! Photo by Dick Jones, Noyo Chapter American Rhododendron Society
CLICK HERE for photos and results from the 2016 Rhody Show!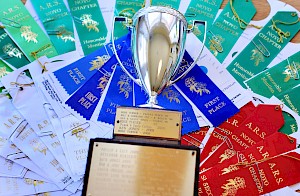 Overview
Start Date: Saturday, April 22, 2017
End Date: Sunday, April 23, 2017
Schedule Details: 9:00am to 5:00pm both days
Location: Mendocino Coast Botanical Gardens
Payment Information: Free admission to show; Gardens admission separate.
Sponsored By American Rhododendron Society's Noyo Chapter
The Noyo Chapter of the American Rhododendron Society has been a local non-profit organization for over 38 years. Their stated mission is to promote the study and culture of rhododendrons and to stimulate interest in rhododendrons by any appropriate means, including the holding of frequent meetings of members and education of the public with rhododendron shows. Their locale is also of utmost importance in preserving the rhododendron species. Although these plants grow in few places worldwide, they thrive in the favorable climate of the Mendocino Coast. The area spanning Eureka to Fort Bragg is the largest production center of hybrid rhododendrons in California.
Sponsor Website: http://www.noyochapterars.com/