2017 Volunteer Opportunities
Mendocino Coast Botanical Garden has volunteer opportunities to meet up with weekly groups or explore for an opportunity that meets your interests. Coordination of all MCBG Volunteers is through the Volunteer Coordinator located in the Administration Building. Applications are available in the office or at The Garden Store. For more information on the various volunteer opportunities lead contact persons are identified.  
---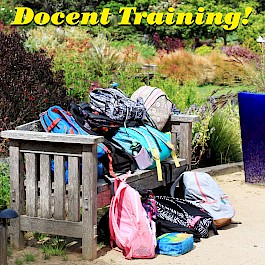 Wanted - Gardens Lovers to Share their Enthusiasm
Each year thousands of children and adults visit the Gardens, spending a few hours or the entire day exploring. The Gardens has something for everyone: well-maintained areas with beautiful displays of perennials, fuchsias, and succulents, and nature trails along the creek to the ocean bluffs. Rhododendrons, camellias, and dahlias are also widely popular attractions.
 If you are enthusiastic about these same features of the Gardens, consider becoming a DOCENT! The Docent Program offers an opportunity for visitors to learn and experience more than what they would on their own. Docents are the public face of our Gardens that guide student and adult groups throughout our 47-acres and impart their knowledge, excitement, and enthusiasm. They are integral to enhancing the visitor experience.
We will be holding a spring Docent Training on March 15, 22, and 29 in the MCBG Meeting Room from 10AM-12PM.  Each session will include classroom instruction and a walk through the Gardens to become familiar with collections, trails, and MCBG history.  If you have a passion for the Gardens and people, please consider this rewarding opportunity. If you can join us, please RSVP to administration_volunteer@gardenbythesea.org. We strongly recommend you attend all 3 sessions.


---
Daily and Weekly Volunteer Opportunities
Fuchsia Proprietor  NEW
The Fuchsia Proprietor is the sole volunteer caregiver of over 50 Fuchsia species and hybrids at the Gardens. On a weekly basis, you will tend to a variety of magnificent purple, lavender, crimson, and white blooms in the Mae E. Lauer Display House. As the Fuchsia Proprietor, you will be mostly autonomous and learn how to prune, fertilize and propagate fuchsias for replanting throughout the Gardens. This job is ideal for someone who can commit 2 hours a week and has passion and excitement for learning about these incredible plants. You will gain hands-on training from MCBG Naturalist Mario Abreu. You do not need to have prior experience working with fuchsias – we will show you everything you need to know! We are looking for one motivated person or a pair of friends that have exceptional communication skills to fill this position. We just ask that you are able to consistently commit to 2 hours a week on the weekday of your choosing. If interested, please contact gardener_mario@gardenbythesea.org.
Dahlia Garden
Work in the magnificent Dahlia Garden begins in earnest in February, meeting each Tuesday morning. Learn about these dramatic beauties and enjoy the brilliant color they bring to this area of the Gardens. Contact Mario Abreu at gardener_mario@gardenbythesea.org.
The Garden Store
The store needs volunteers to unpack and shelve merchandise, greet visitors and take payments, operate cash register, and explain what people will see in the Gardens. Volunteers are needed for daily operations, especially in high season. For more information contact Sarah Flowers, Store Manager at (707) 964-4352, Ext. 16 or email store@gardenbythesea.org.
Heritage Rose Garden, Heath and Heather Garden, Perennial Garden
Tend to the Gardens' Heritage Rose Collection each Tuesday. Almost all the roses in this special collection were discovered along roadsides and on old homesteads and ranches here in Mendocino County. Care for the award collection of heaths and heathers starts back up each Tuesday in March and will also include work in the spectacular Perennial Garden. These are sections of the Gardens that delight all visitors and provide an opportunity to become expert in gardening with these plants. Contact Mario Abreu at gardener_mario@gardenbythesea.org.
Native Plant Garden, Entrance Landscape, Natural Areas - Restoration/Reforestation
Over half of the 47 acres of the Gardens is managed in its native state. Join us each Wednesday and learn about native plants and their various coastal ecosystems as you help maintain them in a healthy state. Learn about native plants and their role within plant communities. Contact Mario Abreu at gardener_mario@gardenbythesea.org.
Nursery on the Plaza & Propagation
Volunteers in the Nursery provide advice to customers, help stock shelves, watering in season and provide information about the Gardens to visitors. It is particularly helpful to have volunteers augment and spell staff over the lunch hours in the busy season, May through September. In addition, volunteers help to propagate plants by seed, cuttings, and division under the supervision of the Nursery Manager or Assistant Manager. Propagation makes available many of the interesting and unusual plants showcased in the Gardens. Call Sophia Pisciotta at (707) 964-4352, Ext. 12 or email at nursery@gardenbythesea.org.
Perennial Garden
Join us in the Perennial Garden  March through September to help ready our eye-catching showcase garden for the summer crowds. Expect to weed, prune, deadhead, dig, listen to bees and frogs, work hard, breathe fresh air, answer questions from our many visitors and obtain inspiration for your own garden! Learn about the vast variety of perennial plants in our showcase garden. Identify plants as they emerge for spring. Committed volunteers will be able to help theorize design plans and closely watch how the garden evolves and shifts as the seasons pass.
Plant Detective  NEW
Help MCBG meet our mission to educate and enrich lives by creating important plant signage throughout the Gardens! If you're interested in learning about plant identification and thrive when working independently, The Plant Detective opportunity may be the perfect fit for you. Wander our 47 acres and locate plants with a missing sign, investigate and research to verify species, and create signage. The ideal volunteer would be organized, have horticulture knowledge (with a willingness to learn more, of course!), enjoy research and be comfortable learning how to work the etching machine. If this is of interest to you, please email Jaime Jensen at lead_gardener@gardenbythesea.org.
Seasonal Rhododendron Care
Over 1,000 Rhododendrons can be seen blooming throughout the Gardens from early spring until June. Learn to care for over 125 species of rhododendrons and more than 190 cultivars. Volunteers needed daily, April through June. Contact Jim Celeri at gardener_jim@gardenbythesea.org.
Rhody's Garden Café
Help prepare beverages at Rhody's Café while learning some delicious tricks of the trade from Marie, our culinary genius of a Cafe Manager. April through September, Rhody's needs volunteers for lunch service shifts from 12:00–3:00pm on Fridays or Saturdays. Work with a fun crew and prepare and serve nutritious and organic meals! This opportunity is great for those with a passion for food. Volunteers must be able to stand for most of the shift. Please contact Marie at mendomarie@comcast.net.
Vegetable Garden  YEAR-ROUND
Last year we took over 7,000 lbs of fresh produce from our organic demonstration garden to the Fort Bragg Food Bank! In addition, we have been building a community of volunteers who work hard and share knowledge and excitement about food and medicinal plants. If you are interested in food production, organic gardening, and feeding the Fort Bragg community please join us in the Vegetable Garden each Monday and Friday from 9:00am to 12:00pm. Join the fun and learn how to grow your own! Contact Jaime Jensen at lead_gardener@gardenbythesea.org.
---
Special Volunteer Assignments
Docents – The Gardens are called up to provide docents for school groups and VIP visitors. Training is available!
Bulk Mailings – The Gardens sends out mailings approximately 10-12 times a year and it takes a team to get one out. This is a fun way to work with others and help the Gardens.
Construction Projects – The Gardens is always in need of volunteers to help maintain facilities, construct potting tables and help with other construction projects. The team that works on these projects is fun and very talented.  
Office Help – Volunteers to answer the phones and help with office administration are always needed. 
Library – The Library is only open when staffed by Master Gardeners of other volunteers and provides a wealth of information about gardens, gardening, and plants.
Ongoing Projects & Special Events
We always need docents, cashiers, library helpers, data entry support, newsletter helpers, brochure and poster distribution helpers, and support with our special fundraising event, Art in the Gardens and Festival of Lights.
---
MCBG Volunteer Opportunities (Printable PDF)