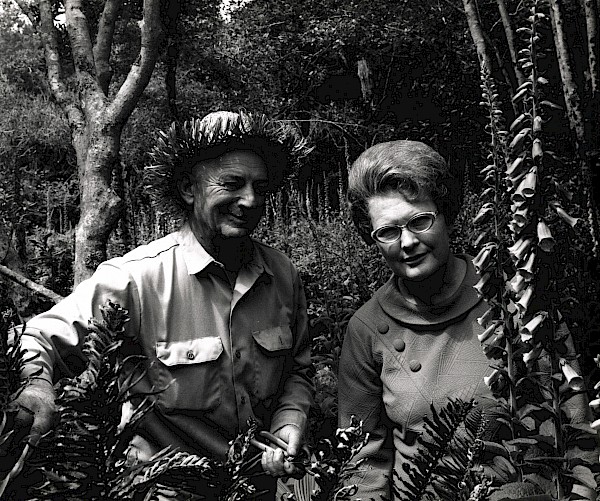 About the Mendocino Coast Botanical Gardens
Mendocino Coast Botanical Gardens was founded in 1961 by retired nurseryman Ernest Schoefer and his wife, Betty. Ernest's keen eye spotted the ample supply of water augmented by the mild coastal climate and quality soil essential to acid-loving plants like Rhododendrons. The Grand Opening of the Gardens was in 1966. By 1992, the Gardens had been purchased with grants from the California Coastal Conservancy and transferred to the Mendocino Coast Recreation and Park District (MCRPD). 
The Gardens is known for its tender species Rhododendrons that produce some of the most fragrant blossoms of the year. Native to the cloud forests of Southeast Asia and the Himalayas, these gems are restricted to a narrow band along the northern California coast in the U.S., where they thrive in the foggy, coastal climate.
In March and April, hybrid rhododendrons tower overhead, dropping petals on the trails below. These old-time hybrids, planted over 40 years ago, are hard to find in nurseries today. Yet hybrids such as 'Cynthia' with its pink trusses continue to elicit enthusiastic responses from visitors. A special group is our Fort Bragg Collection, comprised of rhododendrons hybridized in Fort Bragg. Some, such as 'Noyo Chief,' the official flower of Fort Bragg, have become popular in the nursery trade.
The Perennial Garden is a delight with bulbs,flowers and grasses blooming from spring to fall. Visitors are often surprised that a mild and sometimes foggy climate can accommodate cactus and succulents, yet many grow well here.
The collection of Heaths and Heathers is a national treasure as are the species camellias. Equally if not more important, the natural areas of the garden harbor six different rare and endangered plants. A wonderfully weird forest of pines leads to the breezy bluff of the coastal prairies and views of the Pacific Ocean in all of its moods.
The Gardens has become a haven for bird watchers with the list of bird species now at over 150. It's rare to spot a red-throated loon or double-crested cormorant in spring, but in summer they are common, as are the black oystercatcher, which frequents the rocky coastline year-round. Ospreys, hawks, sandpipers, plovers, swallows, and Canada geese are also regulars. If you're vigilant and look carefully, on very rare occasions you might even spot an ash-throated flycatcher, a Savannah sparrow, a Pileated woodpecker, or a red-breasted nuthatch.
More than 75,000 people a year experience the wonder of nature at the Gardens, in all its seasons. This is a place to play, to contemplate, to learn, to relax, to touch, to smell, to feel, to enjoy, to be inspired, and to experience the simple wonder and beauty of life.
Interested in re-reading some of our E-Newsletters and articles from the past? Each "Bloom Blast" is chock-full of information about the Gardens, our glorious collections, what is in bloom, upcoming events, educational opportunities, and more...

Membership at Mendocino Coast Botanical Gardens preserves habitat, educates the public, and keeps the Gardens growing.

Volunteers at Mendocino Coast Botanical Gardens are the lifeblood of this organization. It truly takes a village of volunteers to maintain this garden.

Employment opportunities at Mendocino Coast Botanical Gardens.

More than 150 species of birds can be seen at Mendocino Coast Botanical Gardens throughout the year, including resident and migratory species.

The mission of the Mendocino Coast Botanical Gardens Library is to collect material, books, and journals with information on subjects including botany, horticulture, gardens and gardening, landscaping, plant pests and diseases, and more.

Friends of the Gardens (FOG) is a separate non-profit support organization for Mendocino Coast Botanical Gardens. FOG supports the Gardens' development and, as such, is the largest contributor to the growth of the Garden.